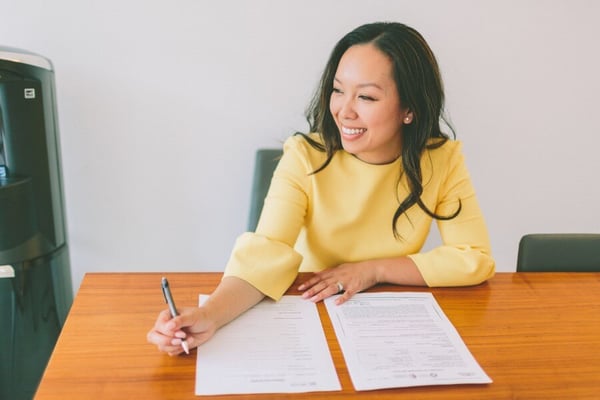 How do you find a recruitment process outsourcing (RPO) firm?
There are plenty of paths to landing the right partner, and a request for proposal (RFP) is one of the most popular.
In this post, seasoned Talent Acquisition Executive, Eric Terry and Hueman's Director of Strategic Partnerships, Chris Lawrence square up (and join forces) to help you determine if going the request for proposal (RFP) route is the right move for finding your RPO partner—or if it's not.
Eric has been in the recruitment buying process many times (including with big names such as Goodyear, and Abbott and Cox Enterprises, to name a few.) He represents the RPO buyer and has turned to RFP's often.
Chris comes from the perspective of a long-time RPO provider, offering insights into why an RFP may not be the best route. Together, the two present a balanced case for you to consider when embarking on your company's hunt for an RPO partner.
Let's get started.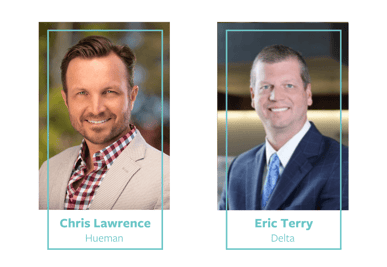 When your company discovers the need for a recruitment solution in the first place, it's usually because recruitment is over-budget and under-performing.
Tell-tale signs may include:
High cost-per-hire
Increased employee turnover
Increased premium labor spend
Lost business (!), resulting from inadequate staff
As an HR leader, you can try to justify these recruitment troubles to leadership. (We're at the lowest unemployment rate in years! Our high turnover has put us in a corner!)
But after exhausting these excuses and acknowledging you need a recruitment solution, you must determine whether you want to build it, or buy it.
Mull over some key questions. What expertise does your organization have internally? If not, what staff would you need to hire to bridge the gap? If you can't afford to hire internally, what would areas of expertise would you need to outsource? Consider:
Advertising and marketing—This is a realm that is ever-changing. If you have true internal expertise, this team must be subject-matter-experts on all things recruitment marketing, from Google's algorithm, to paid advertising and job board developments. This person cannot be your corporate marketer, you need dedicated resources specific to talent acquisition.
Technology—Technology changes rapidly, from your applicant tracking system (ATS) to your customer relationship management (CRM) tool. Even if you already have the technology in place, you must have administrators to monitor the systems. While those individual technology platforms may have IT support, understand you're one of their many customers. A problem may be urgent to you, but it is simply another ticket in their system.
Recruitment scalability—Workforce planning is a living, breathing beast. When forecasting for your business, can your recruitment team adjust to support your business strategy? Think about training time, capacity as well as short-term and long-term needs.
"You could hire for the areas above separately or opt for a bundled solution. That bundled solution? That's an RPO partner. One point of contact. One partnership." - Eric Terry
Because RPO is a bundled solution, you'll often reap some benefits for "free." This could be access to enterprise software, dedicated ATS administrators, and recruitment marketing and advertising consultants. RPO experts also operate within multiple applicant tracking systems and CRM's to capture sophisticated recruitment data, so they should also understand how to align with your existing technology or provide their own, too.
You can never really build it internally in a way that would be able to keep up with the continued evolution of technology.
When you've decided to go with an RPO firm, you must determine with who—and how you're going to get there.
So...why go to request for proposal (RFP)? And how?
A big case for turning to an RFP is that it offers you (the HR leader) self-preservation. You involve multiple stakeholders outside of talent acquisition in a carefully crafted, aligned process. However, you must approach the RFP process in accordance to best practices.
Here's a recommended process to what Eric recommends to set your company up for a smooth RFP journey.
Chris: "Wait, Eric, I've seen this dozens of times through the years, share with me how the business buys things culturally, tangibles versus intangibles, etc. I can help!"
Eric: "Hold your horses Chris; I'll let you know how you can help through the RFP process."
1. Define your stakeholders.
When determining the stakeholders you want to involve in the RFP process, think about key players in the company. These stakeholders are typically a group of 8-15 people, including:
CHRO
CFO
Senior business line leaders
Mid-level management
HR leaders
TA leaders
2. Gain alignment.
Once you've selected your stakeholders, you must tell these stakeholders what you're doing and why. You're hiring an RPO partner because of money, time, flexibility—ensure you have this reasoning thought through prior to.
Chris: "Eric, let's discuss in detail and define a solution in theory, we can help draft change management examples that are respective and meaningful to each stakeholder group."
Eric: "I'm going to create this myself, but thanks; the RFP is coming!"
3. Determine your timeline.
Then, you need to determine your timeline for implementing your RPO partnership. Six months is the fastest Eric has seen this done from the initial stakeholders meeting to the RFP launch through the implementation and live launch of the RPO partnerships.
Chris: "Pilots and smaller RPO engagements are the exception to this timeline, right?"
Eric: "Absolutely."
4. Develop unique, specific questions.
When crafting your RFP questions, think through some of the non-standard questions that will help you evaluate your options best. Don't simply use a template. Areas to pay special attention to are:
Chris: "OK, OK ...so you're going to RFP, I'm still here to help! We can provide standard questions specific to our industry as well as meaningful insight we would suggest in order to get a clear picture for the next phase."
Eric: "We'll have a Q&A session for participating vendors..."
Pricing
RPO is truly priced based on what it will cost to deliver what you're looking to achieve. Ensure there is little room for disparity.
"We all want to know what it costs to fill the specific job levels and families. While I may end up with a blended rate, I don't like to start there." - Eric Terry
When you're looking at your RFP, ensure you've shared enough information to allow the respondents to determine your cost-per-hire. Often, pricing is presented in different ways: cost per hire, monthly retainer, cost per interview—which of these make the most sense for you?
Think of technology, as well. Are they using a technology that is their own or are they using a vendor's? Will they provide this? Or are you going to have to keep your existing technology (and continue to pay for it)?
Relevant Experience
Does the RPO provider have experience specific to your roles and industries? What about locations and markets?
"I'm always going to start with a role specific search. Sales RPO, Customer Service RPO, etc." - Eric Terry
Ensure the respondents have a clear understanding of the biggest job families they'll be recruiting for. A way to achieve this is by asking for staggered pricing.
Filling the role of a call center leader is a completely different cost than filling the role of a sales leader. Add in locations and you've got plenty of room for inaccurate budget expectations.
After you've completed your RFP creation, you're ready to launch it.
Why shouldn't you go to RFP to find an RPO partner?
A request for proposal makes sense for a variety of industries, but is recruitment is the right one?
Chris challenges you to remember what recruitment is at its core.
"It's a people business." - Chris Lawrence
Going through an RPO RFP could sterilize the relationship building that comes from the decision-making process when picking your "people partner."
During the RFP journey, you're typically limited in speaking directly with respondents. You could be missing out on valuable conversations that you simply can't glean from your RFP responses.
"You never want to step on the toes of your Supply Chain/Procurement partners." - Eric Terry
How can you get to know your potential partner early on?
Consider your professional and personal networks, too. What about the existing relationships you have? Is there someone in your company that has worked with someone within another RPO firm? Consider the relationships you could be bypassing because of the nature of the RFP process.
When adhering to your best practices if you do turn to an RFP, we mentioned that central list of stakeholders involved.
"You can pick two-three possible vendors to collaborate with on all of these topics with the agreed-to premise that we're discussing best practices." - Chris Lawrence
But more people could create more roadblocks. That's a lot of cooks in the kitchen.
Think about the timing, too. Can you afford the time it takes to go through the RFP process? That's three to six months you're looking for a solution vs. solving your problem.
The beauty of a pilot.
There's also a solution that gives you less risk and lives outside of RFP land: a pilot with an RPO partner. This is something Eric and Chris both recommend, if the situation is right.
An RPO pilot puts a heavier load onto the provider on the front-end because they must make their case on how they can prove their worth in a shortened amount of time.
This option is extremely cost effective, lets you test out an RPO partner and gives you an easy out if they don't meet your expectations or provides you the clarity of what a long-term partnership could look like.
The Bottom Line
The right move for selecting an RPO partner isn't one-size-fits all. Your decision should be based on what's important to your business.
Selecting an RPO partner is a strategic move that involves thought, tact and research. As an HR leader, you can opt to approach your hunt a variety of ways, whether it's going through the RFP process, or going through a pilot program, connecting with your network and more. Consider the above pros and cons when embarking on your journey and make the decision that's best for your organization—and your people.
If you're interested in discussing an RPO pilot, sign up for a free consultation here.