It's no surprise that unemployment is on the rise with the current state of the economy amid the COVID-19 pandemic. As a Recruitment Process Outsourcing (RPO) company that works with organizations across many different industries, we have seen first-hand how our partners from healthcare to logistics are being impacted by this unprecedented event. Specifically, we have found a unique disconnect between the number of unemployed Americans and the number of applies per job. Based on our data, our applies per job are decreasing as unemployment rises.
We began noticing a decrease in job applies at the onset of the COVID-19 pandemic, so our team started looking into the data to make sense of what we were seeing. We found that for the week ended 3/21, where unemployment spiked to 3.3 million, that 63% of our partners saw a decrease in applicants, and that total applicants for all of our partnerships fell by 16.6% during this same week. For the most recent week ending 3/28, where unemployment grew even larger to 6.6 million, 50% of our partners saw a decrease in applicants, and total applicants for all of our partnerships fell by 16.52%.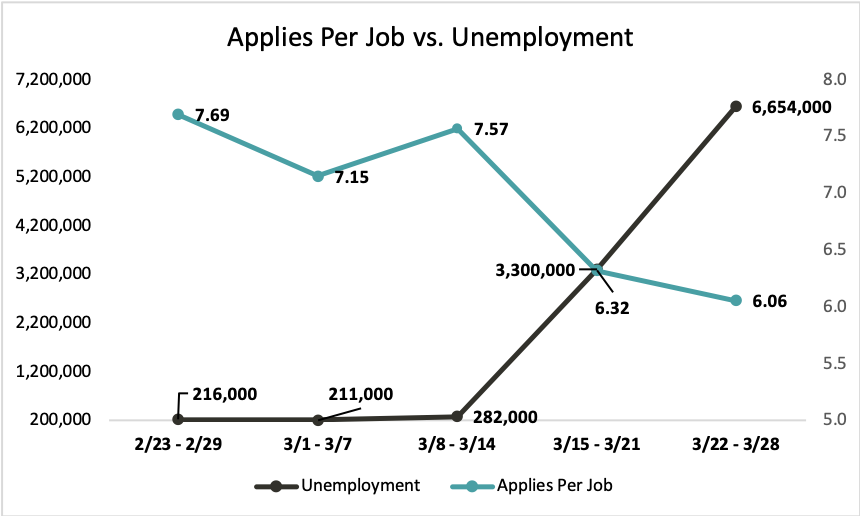 Looking specifically at our healthcare partner's apply data, we saw a smaller decrease in applies for the week ending 3/21, down 14.81% and a larger decrease for the week ending 3/28, down 17.45%. According to Indeed, job seekers are searching for medical roles 26% more than the average site performance at this same time. Also, of note, ZipRecruiter is seeing a sizable increase in daily average job postings for healthcare occupations directly related to the preparation for, and response to, COVID-19. Some examples of these postings include Intensive Care Nurses (+121%), Registered Respiratory Therapists (+129%) and Senior Clinical Research Associate (+13%).
From this data, we can surmise that while the demand for certain types of talent is increasing, the talent pool remains tight. We can also assume that perhaps the candidate pool is even tighter than before, as many prospective candidates may be trying to 'wait out the pandemic' and are less likely to apply for new jobs. Reasons we have heard candidates decline interviews in the past month include a fear of going on interviews and what a new job could mean in this current landscape. Additionally, with enhanced government assistance and the promise of a job to return to following social distancing, many Americans may put off applying for new jobs as long as they possibly can.
This pandemic is causing vast changes to our workplaces as we know them, and changes that will potentially transform our workplaces for a long time to come. Recruiting in an already unstable world provides plenty of challenges for HR professionals, so throwing in another element of uncertainty requires us all to rethink how we find talent.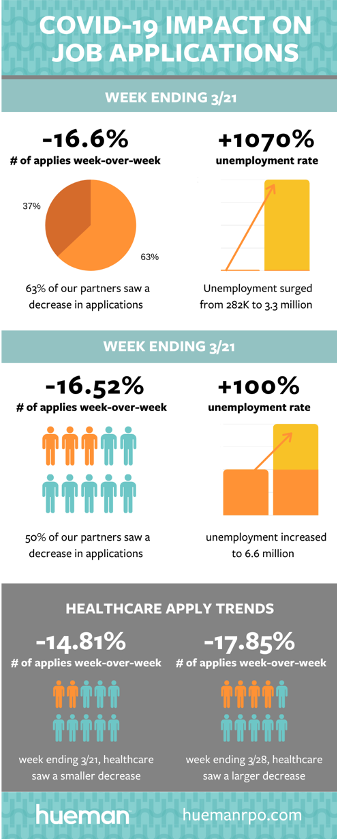 Our organization has been in touch with each of our partners over the past few weeks and while some have put their recruitment needs on hold at this time; we still have quite a few (and not just those in the healthcare industry) that need even more help with hiring additional talent, quickly. As a tenured recruitment organization, we have seen many changes and fluctuations in the world of work through various markets. For example, our experience weathering significant business challenges through the 2008 financial crisis taught us some creative solutions to navigate such an uncertain market.
For those organizations that are still hiring or have seen an increase in demand, and need to expedite hiring, it's time to rethink your workforce. To help you navigate this new recruitment landscape, we've put together some different ways to recruit and hire candidates in this market.
Rethink Job Requirements
One way to make sure you have access to increased candidates is to relax some of your job requirements. This might mean rethinking what is actually required to do the job versus what is a nice to have. For example, instead of 3-5 years of experience, maybe it's really 1-2 years or no formal experience, but a college degree required. You might need to consider what skills your organization can provide training on versus what skills a candidate truly must have upon hire. By relaxing some of your job requirements, you are also providing opportunities to source candidates from untapped talent pools. One of the things we have implemented at Hueman is asking our employees if they have any family or friends who may have lost their jobs during this time. We have already hired two employee's spouses, and we are training them to be recruiters. You can also reach out to local businesses in your community that have had to shut down. Can you employ some of their workers temporarily until this pandemic is over?
Another way to rethink job requirements is to consider down-skilling or looking at your more complex jobs and breaking them down into a few, more simple positions. This allows for more entry-level applicants who might lack experience or a college degree, but still have the intelligence and drive to be a great employee.
Finally, we know that many people are concerned for their health, so what is your organization doing to ensure a safe environment. Is there a change to technology or processes that will help you allow employees to work from home? If not, are you enabling social isolation in your workplace? Can you offer flexible schedules to accommodate parents with childcare needs? These are all things to consider as you try to increase your candidate pool. Enabling work from home options opens your organization up to an even broader pool of talent.
Switch from an active to passive candidate search
It might be time to focus more of your candidate attraction strategy from active candidates to passive candidates. Passive candidates make up about 80% of the global workforce, whereas active candidates only make up about 20%. While there are more passive candidates in the market, successfully recruiting passive candidates can be substantially more difficult since they are not actively looking for a new job. Most of these candidates already have a job and are not looking to make a change. Others who were thinking about making a change or considering looking for a new job have put their search on hold with the current state of the world. And, finally, there are probably some people who are unemployed and stopped their job search amid the pandemic and strong need for social distancing.
With all of that in mind, a good starting point for sourcing passive candidates is your very own candidate database. Depending on how long you have been recruiting talent, you probably have a ton of potential candidates in your database. Think about putting together a recruiting campaign to re-engage with these candidates you already have access to. Another great source is past employees your organization has deemed as rehire-able. Do you know why they left in the first place? Reach out to those employees and find out if they are interested in rejoining your organization.
Perhaps the best source you have at your fingertips is your employees. Talk to them about referrals of friends or family members who may be looking for work. Ask them to use their social networks to spread the word that your company is hiring. Since 79% of the U.S. population has a social media profile, chances are someone in your network knows someone who is looking for a job right now. Referrals are one of the greatest sources of candidates.
Rethink your hiring and onboarding process
At a time where most organizations are having to rethink business as usual, it may be time to rethink your hiring process too. From interviewing and screening to onboarding and training, what changes can you make that will impact getting the employees you need in the door.
Our organization has experience with digital onboarding, since we have a number of remote employees around the country, and most recently (in the past three weeks), we have moved to an all remote workforce and an all-digital onboarding process to accommodate social distancing. Based on this experience, some best practices and things to consider for remote on-boarding are:
Make sure you have a good platform for connecting with your new hires – our organization uses Amazon Chime and it allows our presenters and new hires to see and talk to each other as if they were in the same room.
Leverage your most engaging presenters – while you should do this in person too, it's even more important when your new hires are at a distance.
Condense your orientation as much as you can without losing the very essence of your onboarding or break it up over several days – no one wants to be in an all-day online orientation.
Introduce your new employees to the organization through an all company email, your intranet or some other venue that you use in your organization – at Hueman, we send an all company email and provide pictures from our new hires along with a few facts and one fun or interesting thing they've told us about themselves.
Introduce them in larger all-company meetings – we have a standing all company Monday morning meeting (that has moved to a virtual meeting in just the past three weeks), and it's a great way to connect faces with the full team and makes your new employees feel valued and welcomed.
Finally and above all else, communicate and over communicate to your new employees by sending follow-ups about processes, meetings and timelines, etc., – this is a unique time and you want to be sure that while not in-person you provide ample opportunity for the new employees to connect, ask questions and above all feel part of the team.
Some additional questions to consider as you rethink your hiring and onboarding process:
Do you currently have the manpower and technology to source the additional talent that you need in today's world of social distancing?

After you make an offer, what are the steps required to get that employee to their first day of work?

Which processes are necessary versus which ones can be relaxed, while still providing a good overall candidate experience?

Can you offer a condensed version of orientation or postpone portions of orientation to a later date?
There are many options to rethink your hiring and onboarding process and if all else fails ask for help! Many organizations large and small find it extremely beneficial to work with a recruitment company to support some or all of their hiring needs. These organizations can help you identify unique solutions that will not only deliver the candidates that you need, but in quicker timeframes and with reduced overall costs to your organization.