How to choose the best recruitment process outsourcing provider for your business.
RPO Buyer's Guide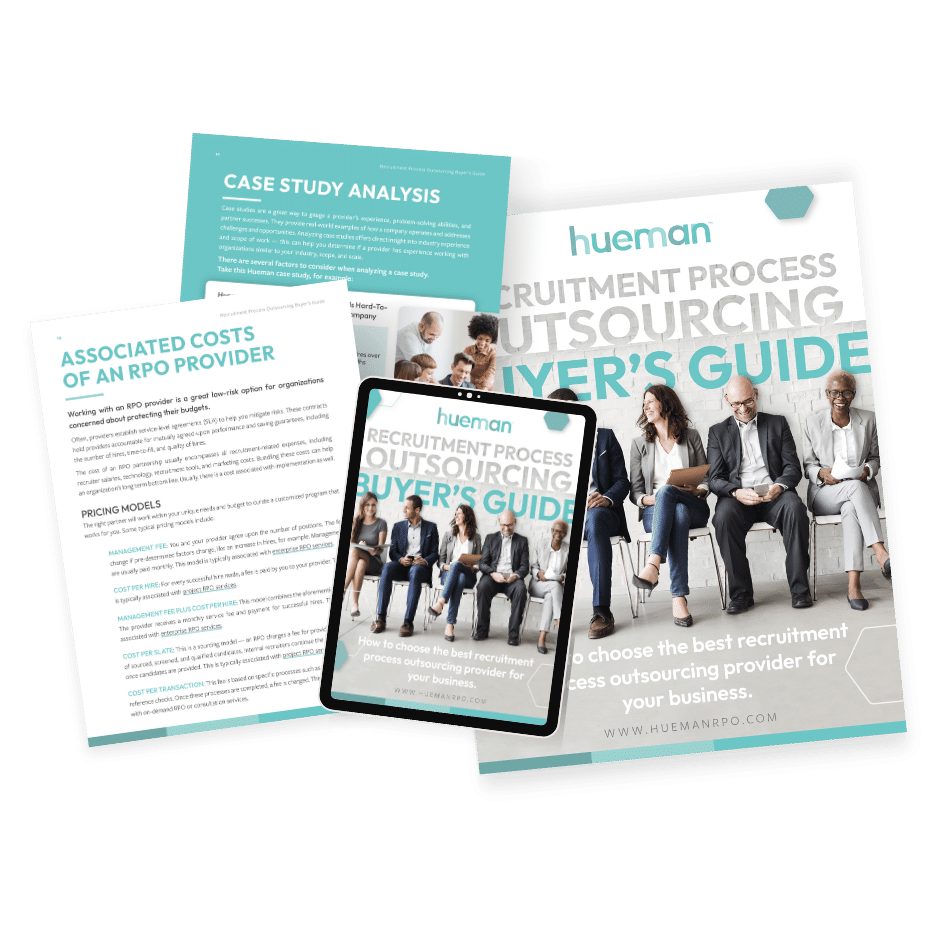 What You'll Learn
Are you tired of spending countless hours sifting through RPO providers, trying to decide which will best suit your organization's recruiting needs? Look no further than the RPO Buyer's Guide.

This comprehensive guide is designed to help you make an informed decision when choosing an RPO partner.

With so many questions to answer, choosing an RPO provider can feel overwhelming. But with the RPO Buyer's Guide, you'll gain the confidence to make an informed decision.

Download the guide to start learning about the following topics:

(1) The benefits of working with an RPO partner

(2) How to choose the best RPO partner for your organization

(3) Associated costs of engaging an RPO provider

(4) What is included in RPO contracts and agreements

(5) The structure of RPO implementation

(6) How to manage an RPO partner after implementation
Choosing the Best to Get You the Best
When working with an RPO partner, you can expect a program customized to meet your needs. While every approach is unique, there are some key indicators that every organization should consider when sourcing an RPO provider:

Industry Expertise: Though most hire across industries, it's important to consider the level of expertise and experience an RPO provider has in your specific field.

Marketing Needs: Reviewing case studies and reference checks can give you an idea of the experience level and success that an RPO provider has regarding their marketing efforts.

Technology Capabilities: An applicant tracking system (ATS) is a crucial tool for hiring. Consider whether you need an RPO partner to provide an ATS or if they can work within your system. What other technology do they utilize?

Candidate Experience: A clumsy or convoluted candidate experience can cost you quality hires. An RPO partner needs to align themselves with the ideals and values of your organization to provide a quality experience that keeps candidates engaged.

Cultural Alignment: The culture of an RPO partner's organization directly reflects how they will conduct themselves in communications with your candidates and staff.
RPO Buyer's Guide
If you're considering an RPO partner for your business, get started with this complete guide.
DOWNLOAD NOW