I think we can all agree that, for any organization to succeed, it's essential to recruit, hire and manage the very best people. And that begins by developing the best processes for these critical functions.
But let's be honest: it's not always that simple. The processes are often inconsistent, infrequently audited and updated, and frustrating for the people who have to perform them. It's also so difficult to improve these processes on the fly while keeping pace with day-to-day hiring and reporting demands. On top of that, one of the takeaways from the COVID pandemic was that much of the hiring process can be performed virtually, which only reduces time to hire and puts more pressure on hiring managers. With the current workforce challenges around recruiting new hires and attempting to retain current hires, we recognize just how important having strong recruiting tactics are to building and maintaining your perfect team.
People are the core of every company, which is why having a strong recruitment process is critical for your company's success. We've mastered the recipe for success and we want to share it with you. That is why we are excited to announce the release of our updated World-Class Recruitment Guide!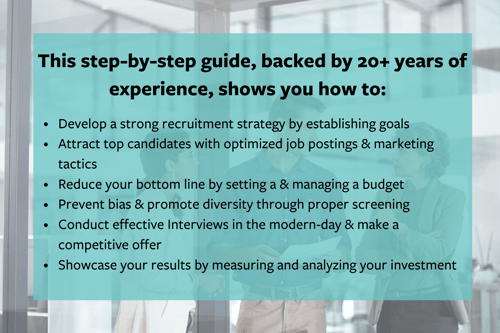 We also include a toolkit with some worksheets and Q&A sheets to help you get started on creating the best recruitment practices for your company. Hueman has been recognized for more than 14 years in a Best Workplace by FORTUNE® and the Great Place to Work institute. We have spent years creating the perfect recipe for best recruitment practices and we are so excited to share our tips, tricks, and lessons with you.
Download our updated World-Class Recruitment Guide here today!