Strengthen your recruitment process to attract and retain top talent.
World-Class Recruitment Guide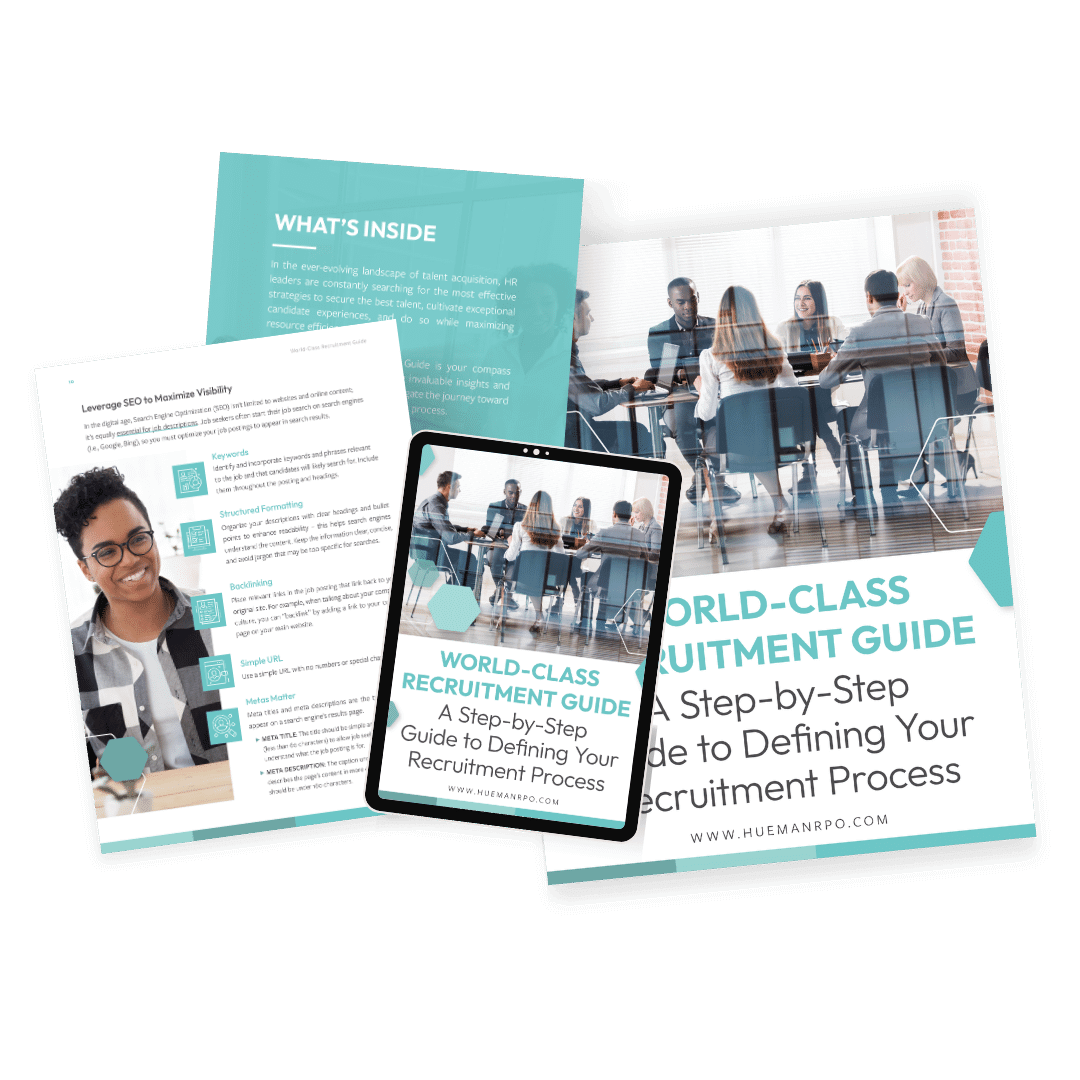 What You'll Learn
People are the core of every company, which is why having a strong recruitment process is critical for your company's success. We've created a step-by-step guide backed by 25+ years of experience to show you how to:

(1) Develop a strong recruitment strategy by establishing goals

(2) Attract top candidates with optimized job postings & marketing tactics

(3) Prevent bias & promote diversity through proper screening

(4) Conduct effective interviews in the modern-day & make a competitive offer

(5) Showcase your results by measuring & analyzing your investment
What's Inside
We've provided world-class recruitment services to our clients for 25+ years by following the best practices shared in this guide to reduce turnover, increase revenue, boost efficiency, and up workplace happiness. In this guide, we provide a full-scale Recruiting Toolkit, including:

- 9 Can't-Miss Data Points to Define Compensation
- 6 Fool-Proof Marketing Practices
- Candidate Persona Worksheet
- Must Answer Questions to Define a New Job
Talent Trends
The reopening of the U.S. economy has created an extremely competitive market for employers and has added even more pressure on hiring managers - which is why it's important to stay up-to-date with the latest recruitment and digital marketing trends in order to target and attract top candidates. Otherwise, it is likely you're only skimming the surface of the available talent pool.
Your Recruitment Process Outsourcing Experts
We've acquired our fair share of awards, but what's even more important is the people we've gathered in the process. Our team built both our culture and our business, which is why at Hueman, we stand for people. Contact us today to learn how our world-class service can help your business grow.
World-Class Recruitment Guide
Learn how to strengthen your recruitment process to attract and retain top talent.
LEARN NOW