LEARN HOW TO NAVIGATE THE CHALLENGING HEALTHCARE LABOR MARKET
State of RN Healthcare Recruitment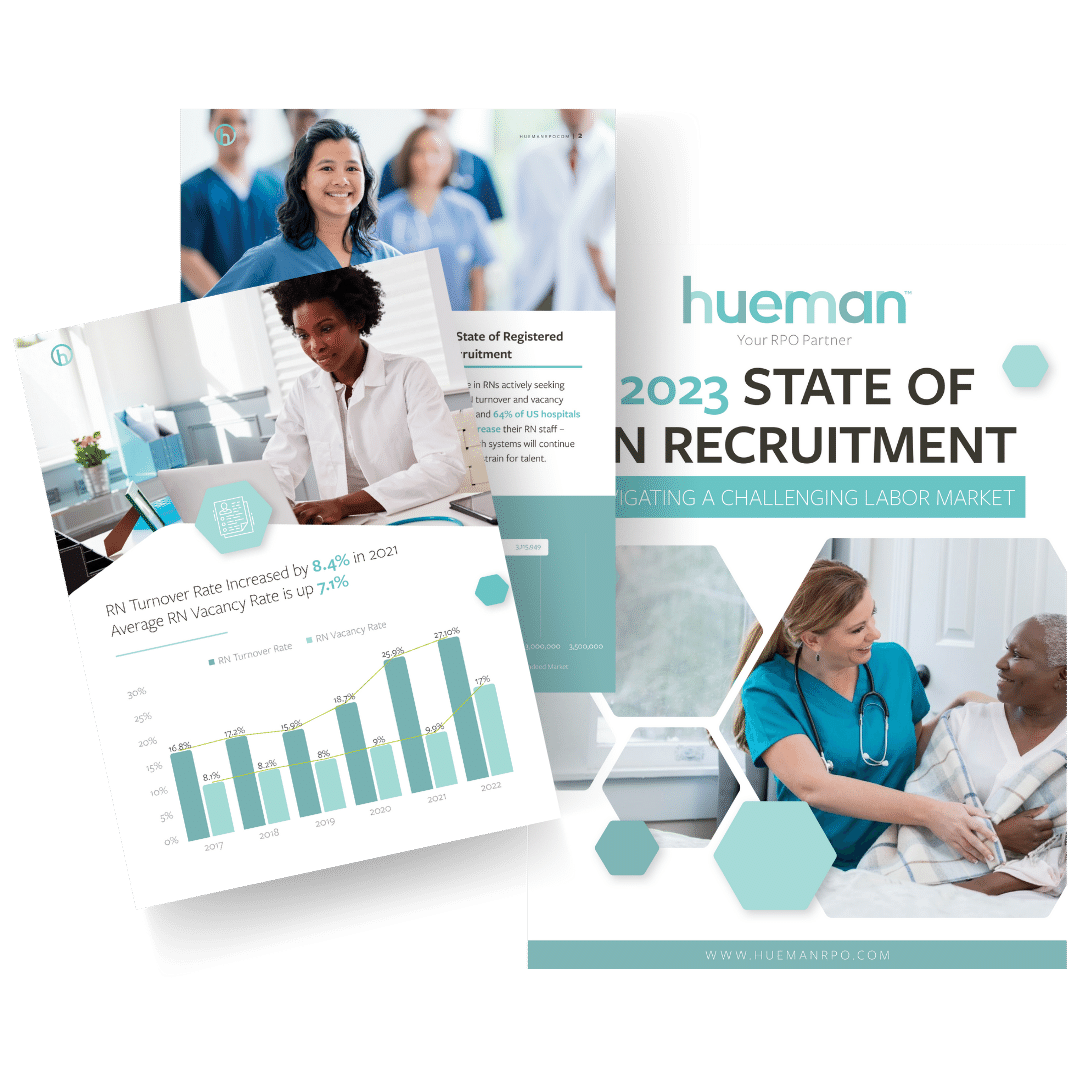 What You'll Learn
In this eBook, you'll learn the stats and data related to the national state of registered nurse recruitment and what your healthcare organization can do to maximize your recruitment efforts.

The 4.3 million registered nurses who work in all facets of healthcare are essential to community wellness, advancing regional and national healthcare systems, eliminating health inequities, and enhancing the country's general health.

What Can Your Healthcare Organization Do?

- Increase the number of nurses available
- Establish safe, empowering, and healthy work conditions
- Promote high-quality healthcare
- Permit nurses to exercise their professional rights to the fullest extent of their training and licensure
Sneak Peak
It's what we do differently to navigate the recruitment challenges for our partners! This eBook is free and can be used by your team today.

Download it now, using the form, and learn vital RN recruitment metrics, such as:
- Registered Nurse Turnover Rates
- Average Registered Nurse Vacancy Rates
- National Registered Nurse Market Demand
- Hueman's State of Registered Nurse Recruitment
- Nation Nurse Population
- Employed Registered Nurse's vs. Active Online Profiles
- New Registered Nurse Graduates Numbers
- Nurse Travelers
- Hueman Traveler Savings
- The Hueman Way Difference

About Hueman RPO
At Hueman, we pride ourselves on being a medium-sized RPO provider that can quickly respond to changing needs and make strategic decisions.

Our approach to recruitment sets us apart from larger RPO providers. We customize every aspect of the process, from sourcing and screening to recruiting, to perfectly align with your needs. This fosters innovation and teamwork and enhances overall performance and success.

In addition, we always take a people-first approach to talent acquisition. When you partner with us, you'll have a direct relationship and receive individualized attention from everyone caring for your account.

From implementation onward, we will work closely with you and your hiring managers to ensure we deeply understand your core values, mission, and culture.
State of RN Healthcare Recruitment eBook
Learn how to navigate the challenging healthcare labor market.
DOWNLOAD EBOOK