Learn what KPIs You Should Use to Measure The Effectiveness of Your Recruitment Strategy
Essential Recruitment Metrics eBook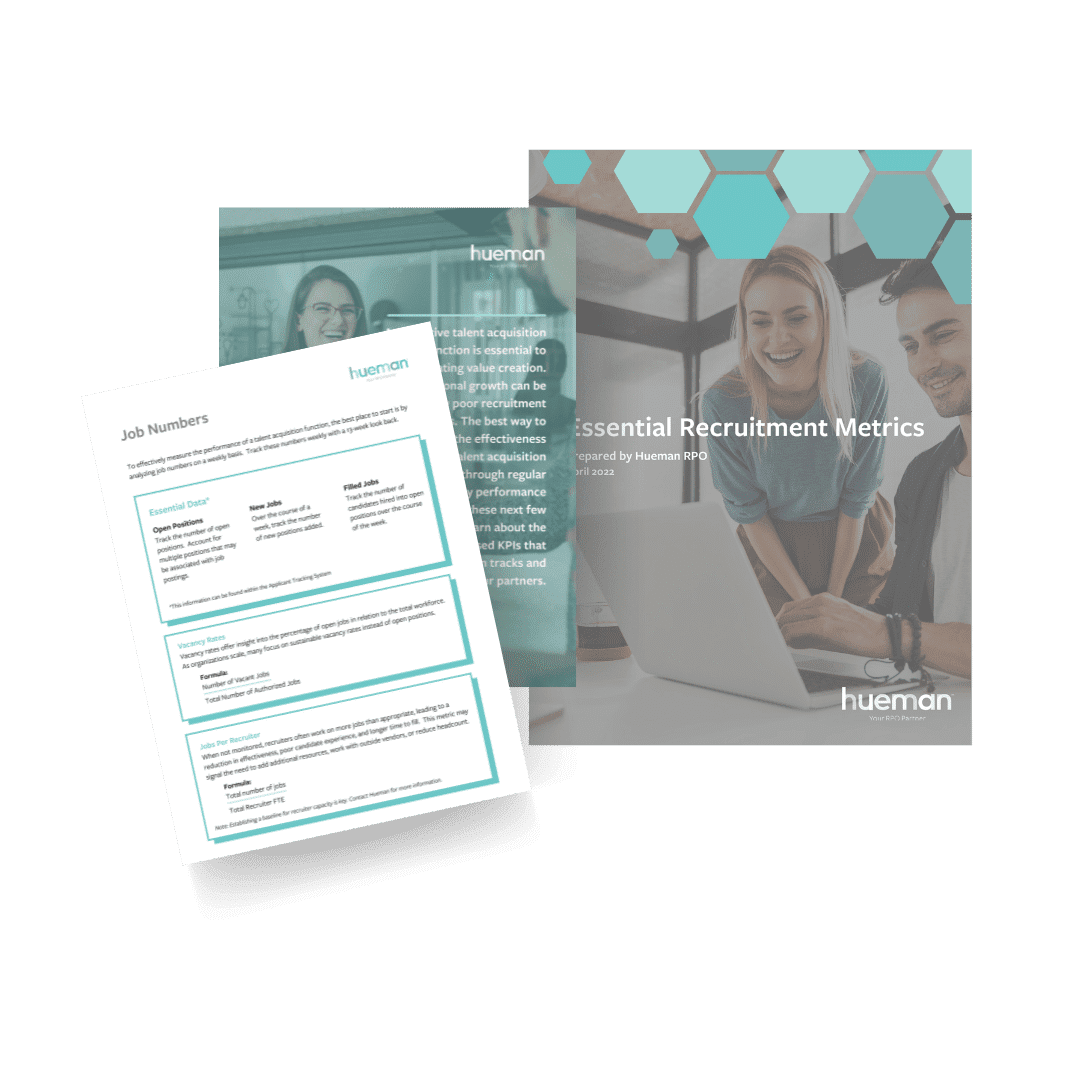 What You'll Learn
To properly scale a business, you need to hire the right people in a timely manner. But, how do you know your recruitment strategy is working? What KPIs are you using to measure its effectiveness?

In this eBook, the recruiting experts at Hueman RPO provide you with the important recruitment metrics and KPIs you need to make strategic decisions regarding your business' talent acquisition function.

Why are recruitment metrics so important?

Poor recruitment processes can hinder the growth of your organization. The best way to understand the effectiveness of your company's talent acquisition function is through regular reviews of KPIs.

Using the formulas we provide in this handy eBook, you'll be able to pinpoint problems that lead to common talent acquisition issues. These issues include poor hire quality, increased cost per hire, lousy candidate experience, and an increased number of days open per job.
Types of Recruitment Metrics Covered
This eBook is free and can be used by your team today. Download it now, using the form, and start measuring the effectiveness of your recruiting strategy.
JOB NUMBERS: The best place to start measuring your talent acquisition function is to analyze job numbers weekly. We show you what recruitment numbers matter.
SPEED METRICS:In a highly competitive labor market, speed is essential to winning talent. This ebook provides you with the formulas you need to identify opportunities to maximize candidate experience.
PERFORMANCE RATIOS: Performance ratios provide insights into the quality of candidates submitted by recruiters, the number of candidates needed for hires, and any outliers in the process. This eBook provides you with the necessary recruitment metrics to track candidates through your recruiting funnel.
TURNOVER DATA: The Society for Human Resource Management (SHRM) reported that turnover costs a company six to nine months of an employee's salary to replace them. The formulas in this eBook can help you develop targeted retention strategies.
About Hueman RPO
Hueman focuses on building partnerships through culture-based recruitment. Our RPO solutions help meet the financial needs of our clients while improving employee engagement and reducing turnover.
Essential Recruitment Metrics eBook
Learn the important recruitment metrics and KPIs you need to make strategic decisions
DOWNLOAD EBOOK