YOUR PEOPLE-FIRST RPO Partner
About Hueman
People Are The Difference
At Hueman, we truly believe that every organization is special and unique, with individuals who bring their own values, qualities, and perspectives to the table. This belief powers our people-first approach to talent acquisition.

With every new recruiting partnership, we spend time upfront to truly connect with our clients and deeply understand their business. Using this knowledge, we're able to find our partners top talent who have the skills required and match their organization's culture.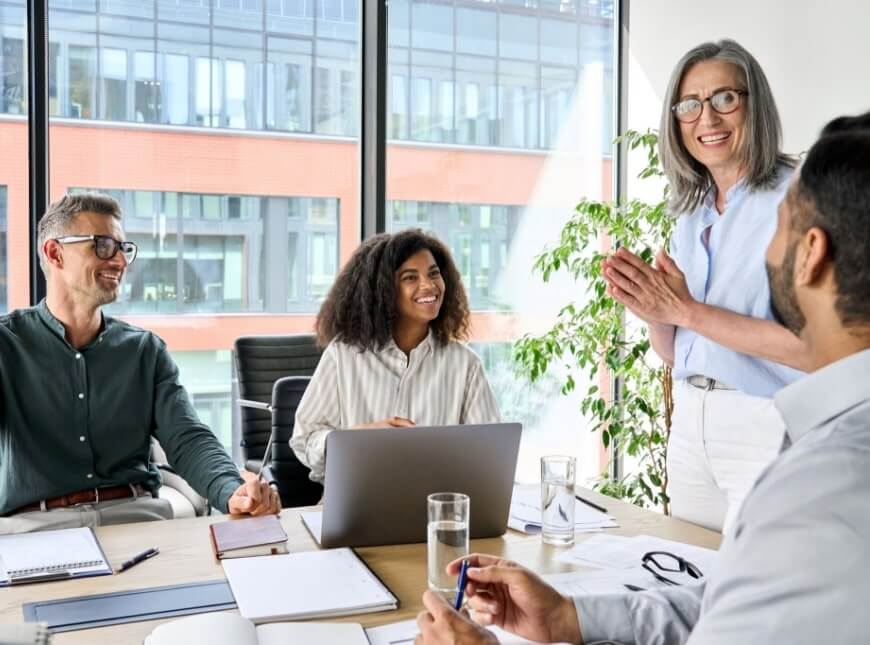 What We Do
World-Class Recruiting Solutions
For over 27 years, Hueman has worked hard to help our recruitment partners find the best possible talent. We understand how important it is to find employees who share your values and meet your hiring needs. That's why we offer various tailored recruitment solutions, such as recruitment process outsourcing, contract recruiting, talent consulting, and direct hiring.

Our team is dedicated to using advanced talent technology and flexible processes to ensure that we build an efficient, diverse, and adaptable workforce for you, regardless of your chosen solution. Let us help you find the talent you need to take your business to the next level!
Learn More About Our Solutions
Who We Are
Our Story So Far
Our company's story began in 1996 when our Founder, Dwight Cooper, launched a small recruitment firm in his spare bedroom in Jacksonville, Florida. That business evolved into a substantial organization focused on permanent recruitment services through a contingent model and expanded to include temporary staffing. In 2009, we launched our recruitment process outsourcing (RPO) service line as a solution for our partners.

The success of this new RPO service line and our strong culture gave our organization a new trajectory. In 2016, we divested our temporary staffing division to focus exclusively on our RPO service offering. And, with that, the brand Hueman was born. Our mission: putting people first and connecting them with the right job at the right time.

Today, we employ over 450+ Huemans across the country. We deliver world-class recruitment solutions, celebrating the different hues that define our values — service, teamwork, change, trust, and excellence.
Our Core Values
Excellence

Service

Teamwork

Trust

Change
Excellence
We take pride in meeting high standards and supporting the pursuit of personal and professional goals by encouraging life-long learning.
Service
We provide world-class service, treat everyone with courtesy and respect, and readily serve our community with pride.
Teamwork
We share our time, talents, and resources, celebrate successes, and recognize each other's efforts to achieve our goals.
Trust
We display honesty, integrity, and ethics in all aspects of business, and have the courage to do what is right. We honor our commitments.
Change
We embrace new ideas, ask questions, seek solutions, and strive to find effective ways to adapt to our environment. Change is essential to our success.
Our Leadership Team
At Hueman, We're Made Up of Talented Dreamers, Entrepreneurs, Creators, and leaders. And we're serious about delivering amazing outcomes while creating a great employment experience. We like to think of our employees as family, and we treat them that way. We empower and encourage each other to provide the highest-quality service for our customers and clients. So now, come meet the humans that make us Hueman.
Let Us Recruit for
You, As You
Learn what you need to take your recruitment efforts to the next level!
Contact Us