RECRUITMENT SOLUTIONS
We Recruit for
You, As You.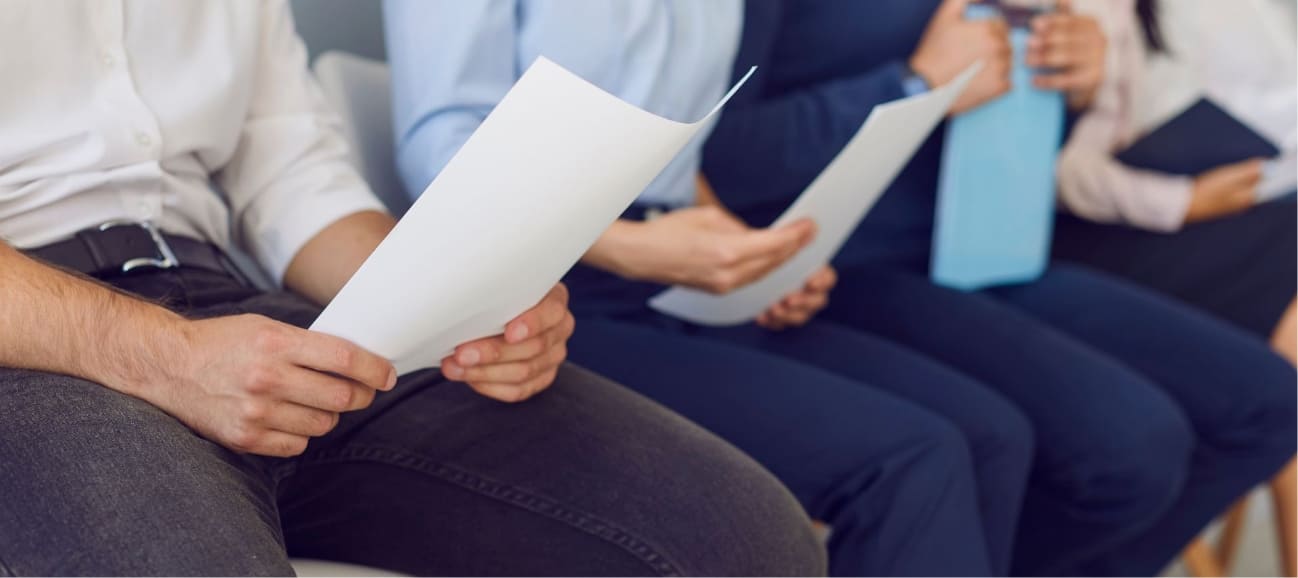 Experience the Power of Putting People First.
At Hueman RPO, we take a people-first approach to talent acquisition. By managing all or some of your recruitment process, we become one with your organization, embracing your values and vision and focusing on finding the right people to help you realize your goals. From permanent hires to project services, consulting engagements to executive search, we combine unparalleled expertise, adaptable processes, and the latest in recruiting tech to help you shape a more skilled, diverse, and versatile workforce.
Need Help Choosing the Right Solution for You?
To help you determine which recruitment model is best suited for your organization, we've broken down each solution and the features they include in a comparison chart below.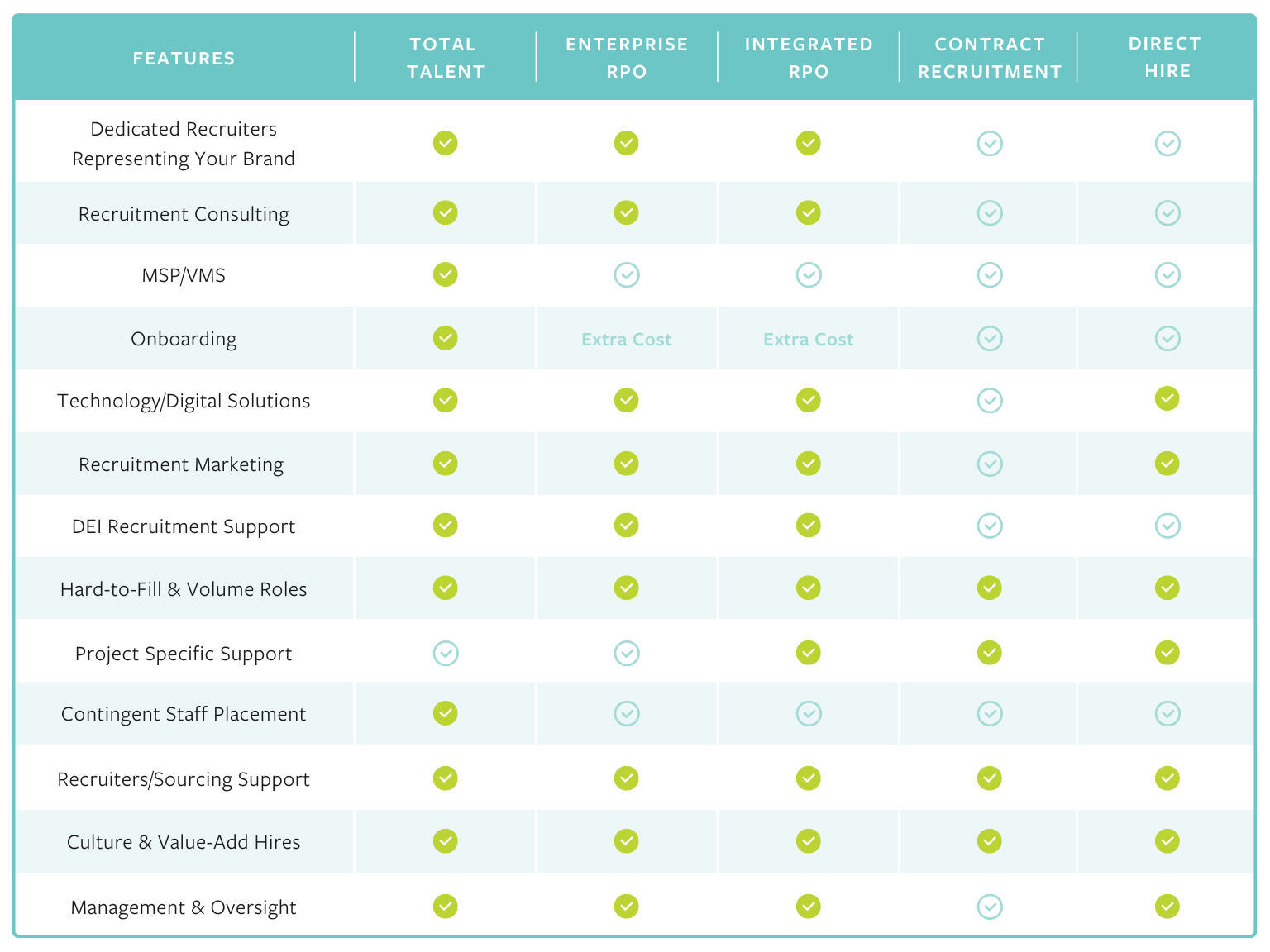 Recruitment

For
Your Industries

At Hueman, we're not big fans of one-size-fits all solutions. That's why our RPO strategies don't start with a template—they start with an open and honest conversation about your specific business values and needs. And, if you work in one of these industries, you'll be glad to know that you'll be working with a recruitment team that actually has experience in and an understating of your sector.
Healthcare

MANUFACTURING & INDUSTRIAL

PROFESSIONAL SERVICES

LOGISTICS & TRANSPORTATION

CONSUMER GOODS & RETAIL

HOSPITALITY
The Cure for the Common
We customize singular and exceptional solutions for our partners in hospitals and healthcare companies to help them find qualified nurses and other hard-to-fill and high-volume roles— without the hassle or expense of working with contract staffing and/or travel nursing agencies.

Thanks to decades of experience providing world-class talent solutions for healthcare systems, we have a deep understanding of your industry and unique talent challenges.
Learn more
Manufacturing Talent Solutions
At Hueman RPO, we're proud of our long history of recruiting manufacturing professionals – from machinists to inspectors. Our proprietary recruitment strategies and deep industry insights can help you quickly fill crucial positions and realize substantial labor costs savings.

We understand that every manufacturer—from textile mills to food processing plants and beyond—has unique hiring needs, so we customize every recruitment strategy to maximize your success.
​​Putting the Professionals in Professional Services
With a long history of recruiting business services professionals—from accountants to IT support to human resources to marketing—we've seen our share of job market ups and downs. Currently, with unemployment low and ample job openings, competition for top talent is fierce.

Leverage our team's proprietary recruitment strategies and deep industry insights to meet your hiring needs today and adapt when the market inevitably changes.
Your Supplier of Top Talent
The pandemic highlighted just how critical logistics and transportation professionals are to our global economy. Today, professionals in procurement, logistics, and supply chain management no longer operate behind the scenes—the need for their skills has taken center stage.

Partner with us to access our expertise, proprietary recruitment strategies, and industry expertise in logistics and transportation to get you the talent you need ASAP.
Stock Up on Talent
The consumer goods and retail industry isn't just seasonal—it's often volatile. Swings in consumer confidence and spending can cause regular shifts in your talent acquisition strategy.

At Hueman RPO, we have the experience in and the flexible models for these ups and downs. Let us get to know your business goals and your values, so we can help you scale your workforce up or down, as needed.
Welcome to an Elevated Recruiting Experience
You're in the business of delivering exceptional customer experiences? What a coincidence, so are we. At Hueman RPO, we've developed effective talent acquisition strategies for partners at hotels, resorts, restaurants, clubs, and more.

So, with extensive experience in delivering world-class hospitality talent and a deep understanding of your industry, tell us: how can we help you?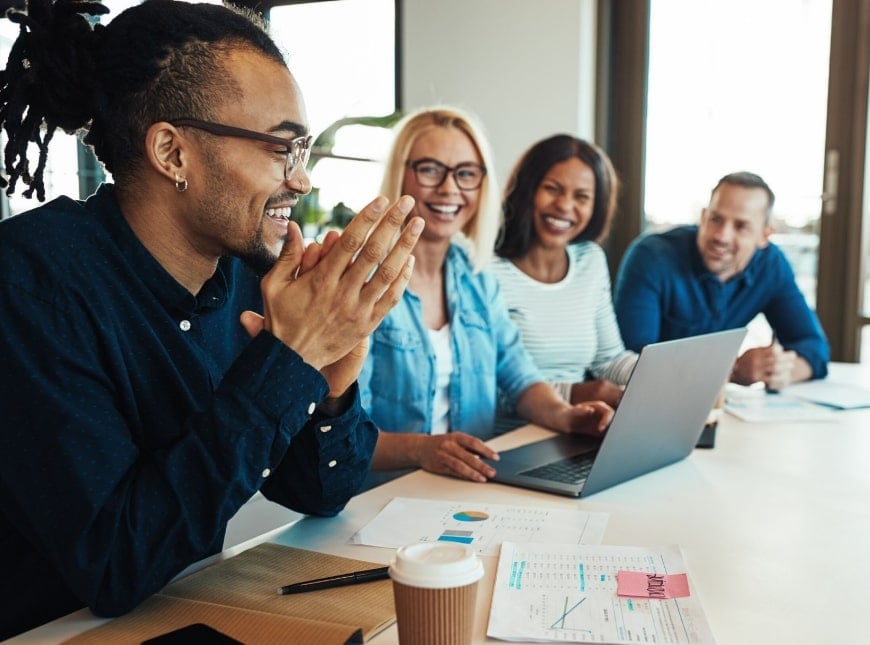 How it Works
What is Recruitment Process Outsourcing?
Recruitment Process Outsourcing (RPO) is a form of business process outsourcing where you, as an employer, transfer all or part of your recruitment processes to a recruitment agency like ours. Our responsibilities can include sourcing, recruiting, marketing, screening, selection, offer management, interview preparation and scheduling, due diligence, pre-hire paperwork and onboarding. As your RPO partner, we recruit under your brand, using our own dedicated recruitment team and custom strategies, or we may assume your company's staff, technology, methodologies, and reporting.

We're not the same as a staffing company or contingent/retained search provider, because we actually become part of your team and assume ownership of the design and management of the recruitment process and the responsibility of results. Plus, our dedicated recruitment teams recruit exclusively for your business, and they can focus on critical recruitment pain points including decreasing premium labor, finding the right fits for your values and vision, and increasing employee retention.
Read The Ultimate Guide to RPO
Let Us Recruit for
You, As You
Learn what you need to take
your recruitment efforts to
the next level!
Contact Us