March is Women's History Month, and we at Hueman wanted to take the opportunity to highlight a few of our amazing women who work in Recruitment Process Outsourcing (RPO). In 2020, Hueman was honored to be recognized by Fortune's Great Place to Work as one of the Best Workplaces for Women, and so it seems appropriate that we highlight several of the many amazing women who make our company great!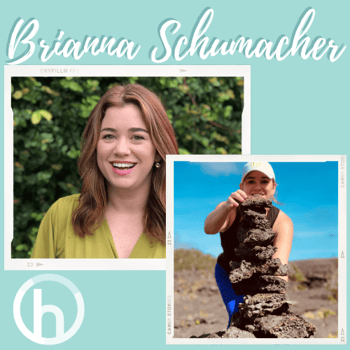 Brianna Schumacher
Brianna Schumacher joined our company in 2012 and is known as a Hueman cheerleader! A psychology major, she knew that she was destined to work with people. Starting her career in educational recruitment, she quickly realized that she wanted to be in a career that helps people find jobs and careers that they love. Brianna decided to go into RPO because she liked the relationship that recruiters could have with both clients and candidates. In her nine years in the RPO industry, she has worked her way up from recruiter to her current role as Vice President of Great Customer Experiences.
She says that "The attributes that have made me most successful in my career are those that I've developed as a women/wife/mother. Whether it's work or at home I am always; multitasking, using quick thinking for process improvements (I can tell you the most efficient way to run your recruitment process or change a diaper), reprioritizing, and using effective communication skills."
Her advice to other women starting in RPO is: "Make the most of [learning] as much as you possibly can! There are so many niche aspects within RPO and I think that there's a lot to offer. Find what you are passionate about and what your talents are - then apply that to any number of innovative strategies or solutions within RPO, the sky is the limit!"
Megan Holcomb
Megan Holcomb loves working with people every day. Megan started her career in the retail industry, and after talking with a family member about the recruiting industry, she decided to look more into that field. After a chance luncheon with the President of Hueman's Private Equity Talent Solutions and Executive Search Divisions, Dina Demarco invited her to shadow a recruiter. Impressed by how friendly and upbeat everyone was, she officially joined the Hueman team six years ago.
Starting as a recruiter, Megan is now a Team Lead for one of our partners. Megan is thankful for the support she has found at Hueman and from the partners and hiring managers that she supports. At Hueman, she has felt heard and validated by all of her coworkers--male and female--and has learned to be confident in risk-taking: "I have been so fortunate at Hueman to work with so many strong and talented women (whether it's great bosses, mentors, teammates) that have shaped, not only the recruiter I am but also me as an individual... That's really been a big impact on me."
Her advice to other women starting in RPO is: "Don't be afraid to speak up when you have an idea when you see that there's a gap in the process, and you see a solution speak up. It'll never fall on deaf ears; whether it is the solution that we run with or it's just a jumping-off point that turns into the solution, I think this is such an ever-changing business, and there's room for everybody's ideas."
Lauren Spencer
Lauren Spencer is all about forming relationships and engaging with people. When looking for a change in careers, Lauren stumbled upon Hueman in a unique way--her husband is one of the employees from Adjective & Co., who completed the rebrand for Hueman. After meeting with Terri Cohen, our Executive Vice President of Great Employment Experiences (our version of HR), she found that Hueman was the perfect fit for her. Three years later, Lauren has grown as a healthcare and therapy recruiter within the company. She loves her work at Hueman because she thrives--both as a woman and as a Type A, empathetic personality. She has found her passion for working in RPO because "[Working in] RPO, you're forming relationships with people, and you want to get to know someone and get them in a job that is their best fit. We're facilitating life-changing deals at the end of the day, like getting someone their dream job or a stepping stone to their dream job."
Her advice to other women starting in RPO is: "Don't make yourself small. I think it's really important to use your voice and make sure that you speak about your skills, your experience; make sure you utilize all of those. I think sometimes women getting started in their career, especially if they're younger, can feel intimidated both culturally and socially. In society, the way that [women are raised] to be quiet and wait your turn and raise your hand and, obviously, don't overdo it, but feel empowered to speak from your experiences, because you have good ideas and that's why you're here."
---
These three women are only a tiny portion of the many amazing women we are lucky enough to have to work with us at Hueman. Whether or not it is Women's History Month, we look to acknowledge and appreciate our female employees every day of the year.
If you're looking for ways to uplift your female coworkers this month, our Diversity, Equity, and Inclusion committee recommend:
Buy a coffee for a woman that inspires you.
Get involved with organizations that support women and girls.
Encourage cis men to be part of the conversations about women, femmes, and women's history.
Support women-owned businesses.
Write a thank-you note to a woman that inspires you.
To read more interviews from our extraordinary women in RPO, visit our social pages where we are highlighting several of our female employees for Women's History Month visit our social media pages: