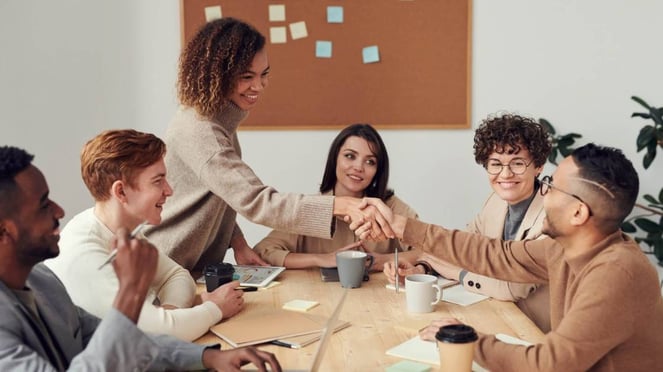 2020 was a year that taught companies just how vital adaptability and diversity are for a company to succeed. A strong need for Diversity, Equity, and Inclusion (DEI) initiatives was one thing that companies realized they needed to prioritize. Here at Hueman, we are in the beginning stages of establishing our own DEI department and strategy. As we continue on our journey, we realize the time, effort, and continued attention required to develop a successful DEI strategy.
In mid-January 2021, Hueman's Executive Vice President, Joe Marino, moderated an engaging panel with Diversity and HR leaders to discuss the tactics for building a successful diversity recruitment strategy. There were many great takeaways from the panelists. As a result, we wanted to share five powerful tips and insight from our RPOA webinar to strengthen diversity, equity, and inclusion in an organization.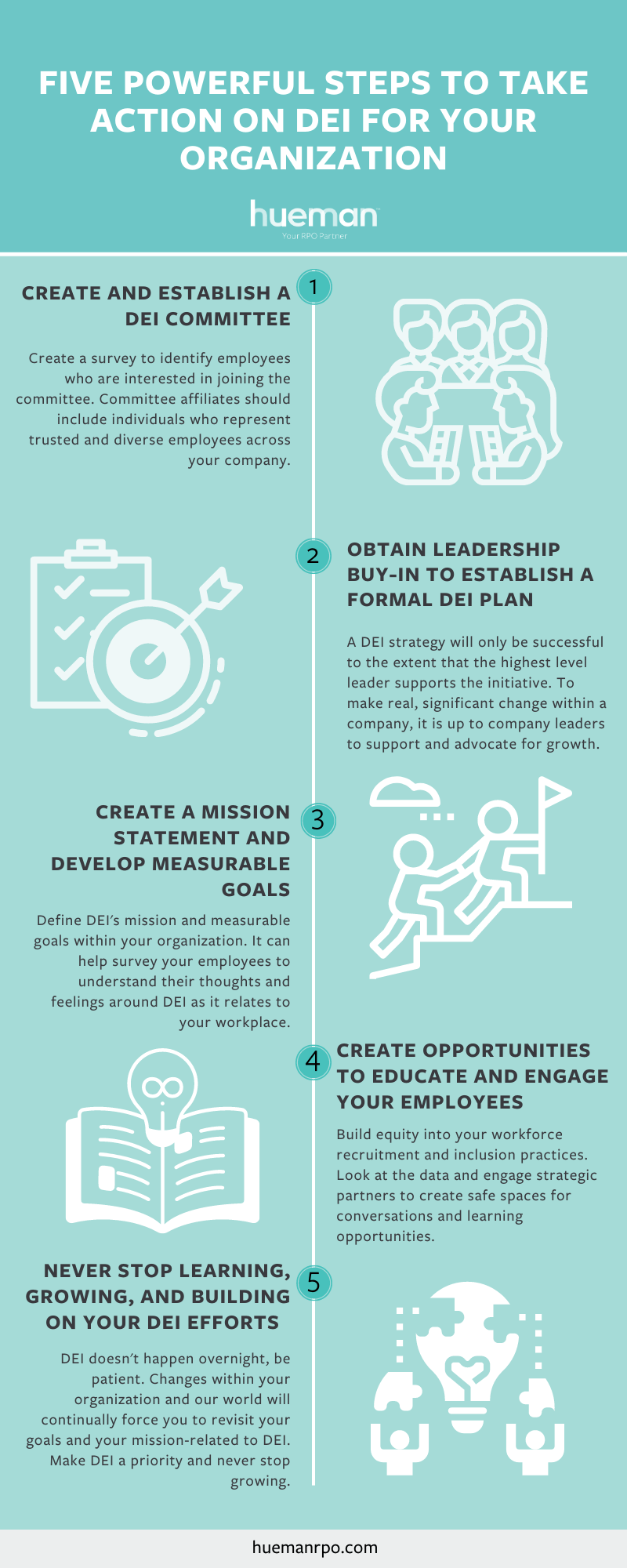 1. Create and Establish a DEI Committee
Start by creating a survey to help identify any employees interested in joining the committee and gauge their interest in DEI. Surveys can also help determine what your diverse work population is. DEI is not just about race. It is also about gender, age, veteran status, family status, socioeconomic status, and more. Acknowledging how wide-ranging diversity is can help you better understand your employees.
According to a recent Staffing Hub article, "To reap success from DEI, it is necessary to invest in a wider variety of talent, who have broader knowledge, experience, and expertise to match our complex global environment." Camron Murphy, managing director of FEAM Maintenance/ Engineering, believes that building a DEI committee is important because "You're building a team and a village. You're getting different perspectives from different departments, and everyone is pitching in to see how to reach measurable goals."
Once you have identified those interested, you can begin to select members to make up your committee. Your team should be made up of volunteers to ensure that everyone is there for the right reasons. For Hueman, our team currently has 15 employees from across the organization and additional support from employees and C-Suite members across our company.
Helpful Links:
2. Get your company leaders to buy-in to your DEI Committee.
As Hueman's Joe Marino stated in our recent webinar, "A DEI strategy will only be successful to the extent that the highest level leader (CEO, owner, or board of directors) truly supports the initiative. If this isn't in place, spend your time getting the buy-in from executive leadership before trying to roll out any initiatives." Every part of a company is only as substantial as the leaders who buy into it, especially for a DEI committee. To make real, significant change within a company, it is up to company leaders to support and advocate for growth. Camron Murphy put it best in our RPOA webinar," At the end of the day if you don't have buy-in from the top and different people in the organization, you can't have success. You are only as strong as your entire team." When leadership chooses to put a focus on strengthening their hiring pool through diversity, equity, and inclusion, they can ensure they are creating a safe and strong work environment. And when there is an emphasis put on diversity, equity, and inclusion throughout the company as a whole, it is setting up the company for success.
Helpful Links:
3. Create a DEI mission statement and goals
Mission statements will help define what your DEI goals and strategy mean to your company. A mission statement is the foundation of your overall DEI strategy. It supports your employees and future applicants, and clients in understanding your ideology and how you want to grow. It will cement your company's values and beliefs for your employees and helps them understand your company culture. A mission statement will also help you create and continually update your DEI goals as you progress in your journey.
Goals help establish your program and build plans for the future. These goals are building blocks for establishing and growing a strong DEI committee within your company. They help your members know where they should be focusing and start making progress within your organization. Your committee members are a great tool to motivate your team to make behavioral or strategy changes needed to reach the goals put in place. Having goals set also helps hold everyone accountable for achieving them in a timely and efficient manner.
LinkedIn data also shows that while 69% of talent professionals agree their organizations are committed to more diverse hiring, only 47% feel their hiring managers are held accountable for interviewing a diverse slate of candidates. Creating both short term and long term DEI goals will help your employees know where your company stands and what they should expect from all of their employees.
Helpful Links:
4. Create opportunities to educate your employees and clients
Build equity into your workforce recruitment and inclusion practices. Panelist member and Leadership Development Consultant Lotus Buckner put it bluntly: "This isn't a 20-year project. It is a yesterday project that we are behind in already." It's okay to start small, but there needs to be plans in place to grow A comfortable place to start is to make sure that your company has a safe space for employees to communicate any concerns they have or speak out on changes they feel need to be made. Look at the data and develop conversations and learning opportunities around your diverse workforce; Invite diverse speakers to your panels, share diverse employees' stories, and provide education and training opportunities. It's vital to prioritize DEI and educating employees on its importance within the company.
Helpful Links:
5. Never stop learning and growing.
DEI is not a one-size-fits-all process, nor is it an overnight fix. Your DEI strategy and goals should be ever-evolving as your company and employees grow and evolve. Nicole Isom, Hueman's DEI leader, says, "DEI is a long game... It's about sitting down and looking at how we are building connections, how we're diversifying our job boards--not just relying on referrals. Still, looking into the organizations we are already a part of and leveraging those, and developing an external brand for your company."
There is always more work to be done to ensure that you are as inclusive and equitable as possible. In the coming years, continue to survey your employees and partners, listen to them, collect data, and always continue to evolve your plan until you stand for every employee, partner, and the larger community.
Helpful Links:
We know that establishing a DEI strategy can seem daunting, but all businesses must have one in place. As stated by Qualtrix, "a culture of equity and inclusion is critical to the success of diversity efforts, and creating an equitable and inclusive workplace also creates a positive employee experience."
These steps are a great starting point for establishing your own DEI strategy or even reviewing the process you have in place today. If you are interested in learning more about our Diversity, Equity, and Inclusion initiatives or you would like to discuss best practices for launching your own DEI recruitment strategy, contact us today.