Hueman, a recruitment process outsourcing firm, has received the 2022 Gallup Exceptional Workplace Award (GEWA). This award recognizes the most engaged workplace cultures in the world. This is the fourth year Hueman has been named a GEWA winner.
After another year of unpredictability in the workplace, Gallup found that Hueman continued to engage and develop its people amid the disruption. "Gallup's 2022 GEWA winners have steered their organizations through another unprecedented and challenging year. They didn't slow down or hit 'pause' during times of uncertainty. They stayed true to their organizational values. Gallup commends all of the 2022 GEWA winners for their resiliency, determination and commitment to making their people a priority," said Jim Harter, Gallup's chief scientist of workplace management and wellbeing.

The GEWA winners' ratio of engaged employees to actively disengaged employees is 13 times higher than the global average. Worldwide, only 20% of employees are engaged — that is, committed to their work and connected to their workplace — and just 34% of employees in the U.S. workforce are engaged. Seventy percent of employees at winning GEWA organizations are engaged.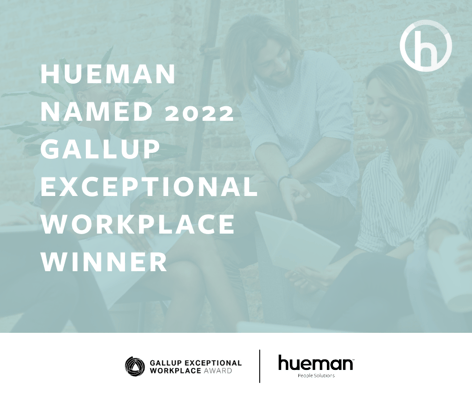 "Hueman is incredibly proud to be recognized by Gallup for the second year in a row and four years overall. People have been, and always will be a core of our business, especially our employees. We will continue to provide an engaging workplace so they can continue to thrive and make it possible to earn awards like these," says Dwight Cooper, CEO of Hueman.

Gallup's meta-analysis on team engagement and performance is the most comprehensive workplace study ever conducted, with data on more than 2 million employees in 276 organizations across 54 industries and 96 countries. Highly engaged organizations significantly outperform their peers in important business outcomes, including customer ratings, profitability, productivity, turnover, safety incidents, shrinkage, absenteeism, quality, wellbeing and organizational citizenship.

For a complete list of GEWA winners and more about the selection process, visit the winners' page.

About Hueman
Previously a part of PPR Talent Management Group, Hueman was established by a core leadership team who saw an opportunity to expand their cultural-focused recruiting models. For more than two decades, our core team has worked together to create a company that recruits, hires and manages quality individuals for quality positions. However, Hueman isn't the typical recruiting partner who views hiring as an administrative function or a headcount. Instead, we look beyond the metrics, and recognize the person—the individual. We look for heart, creativity, passion and character— when we see it, we hire it.

About Gallup
Gallup delivers analytics and advice to help leaders and organizations solve their most pressing problems. Combining more than 80 years of experience with its global reach, Gallup knows more about the attitudes and behaviors of employees, customers, students and citizens than any other organization in the world.