HROToday recognized two of our leaders on Tuesday, November 17th for their inspirational impact on our organization and in the HR and Talent Acquisition community.
Dwight Cooper was named the Executive HR Champion of the Year and Sarah Palmer was named the Thought Leadership for HR Excellence for their dedication to innovation, engagement, and leadership.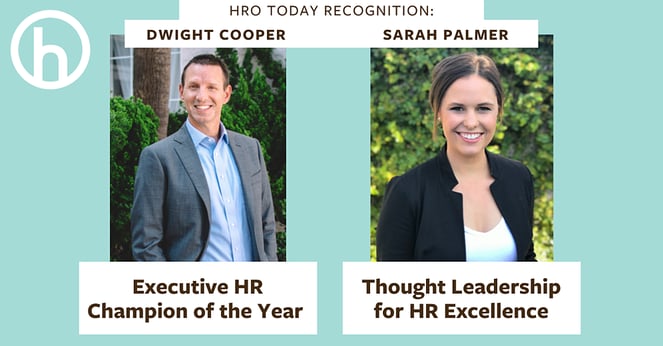 Dwight Cooper, Executive HR Champion of the Year, can be described as a dynamic leader, visionary, and one of the most engaged yet down-to-earth leaders you'll meet in the recruitment industry. He is someone who is not only respected by employees and leadership colleagues, but also by our nationwide partners, their businesses, and the local Jacksonville community.
"I'm particularly honored to be named HRO Today's Executive HR Champion of the Year because I have spent my entire career promoting the importance of talent acquisition and HR to business leaders," said Dwight Cooper. "There's nothing more important to driving a successful business than recruiting, hiring, and retaining the best people."
There is proof in his exemplary leadership abilities because he is the only CEO in the country whose company has been named a Best Workplace by Fortune Magazine for 14 years. One of the many awards Dwight and Hueman have received over the years because of the engaged culture built by Dwight and the team.
Sarah Palmer, named Thought Leadership for HR Excellence, is one of the most forward-thinking leaders in the talent acquisition industry and has revolutionized the integration of digital strategies into the talent acquisition process for our partners.
"I'm proud to lead a team of talented employees that spends every day finding new ways to innovate within the recruiting and talent acquisition space. To have these efforts recognized by HRO Today with the Thought Leadership for HR Excellence award is really amazing," said Sarah Palmer.
Sarah has been recognized by multiple organizations for the impact she has made on the talent acquisition industry and her fellow employees. She continuously gains positive feedback from our partners and is always looking at innovative processes and new technology to continue to enhance our solutions for the benefit of our clients and our organization.
Although this is just a glimpse of the things Cooper and Palmer have done for Hueman and the recruitment and talent acquisition industries, it shows the dedication and passion they have for meeting our partners' needs and achieving a high level of success. These two Huemans are more than deserving of this recognition from HROToday and we are proud that their hard work and inspiring leadership abilities do not go unnoticed!