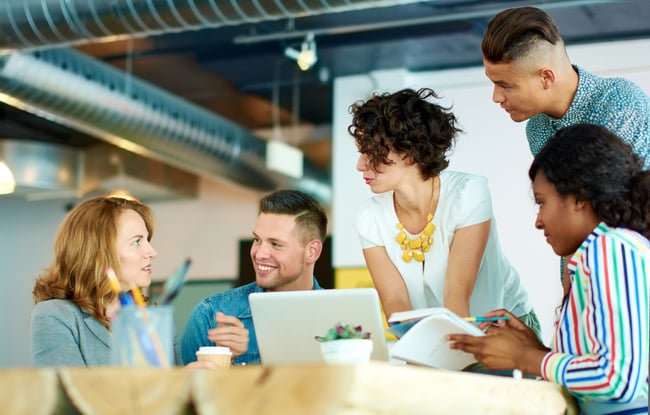 Diversity, Equity and Inclusion (DEI) are not new words in the world of business. For years, companies have had DEI departments that focused on making workplaces both diverse and safe for people of all kinds.
However, with the pleas around the country for change stemming from the May 2020 killing of George Floyd in Minneapolis, the importance of active DEI departments are really only just now starting to be understood by leadership. Rather than simply focusing on reaching the minimum numbers of diverse hires, companies are finally starting to see the impact diverse teams have on a company's success and productivity.
Companies who hire more diverse employees are creating stronger and more efficient work places. Businesses whose company management teams are more diverse have 19% higher revenues due to innovation. The 2017 BCG Diversity and Innovation Survey showed that companies with above-average diversity have an average of 45% innovation revenue reported, while companies with below-average diversity scores only have an average of 26% innovation revenue reported.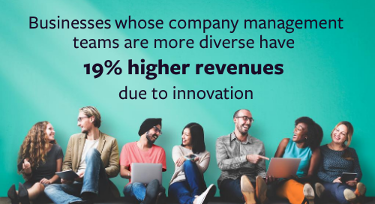 In an interview with April Minsky of Medium, co-CEO and Head of DEI for She+ Geeks Out, Felicia Jadzack points out how important it is for companies to pay close attention to how they are prioritizing DEI in the workplace. "What's the point of hiring from underrepresented groups if you're not retaining them? Is having a 50/50 gender split really impressive if none of your leadership roles are held by women?"
What exactly is the role of Diversity, Equity, and Inclusion in business? And why is it so important for leaders to buy into?
To start, it's important to know the differences between the three. Diversity, Equity and Inclusion doesn't just mean hiring people of different races or genders for numbers sake, but instead creating successful, strong, and healthy environments for all people within a company.
Diversity is not just about ethnicity or race; It has a vast definition that is changing and evolving daily. Equity means that companies acknowledge the historical and systematic barriers minorities face and make an active effort to eliminate those barriers within their organization. Inclusion is the act of hiring traditionally excluded and marginalized groups without doing so for monetary benefit.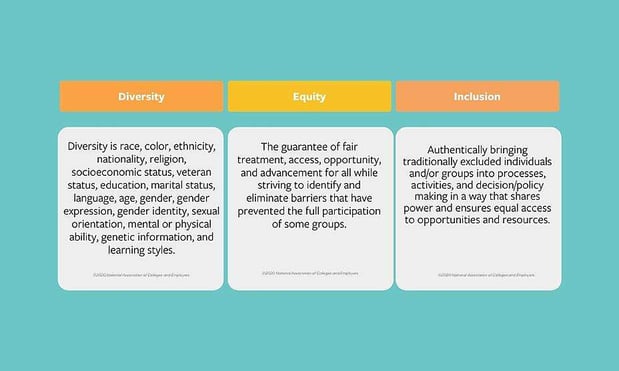 For all businesses, having a DEI department should be standard. You have to start by making changes at "home" before you can make them elsewhere. This means those in leadership roles educating themselves on the issues faced by minorities both in and out of the workplace. It also means actively avoiding stereotypes and seeing potential employees for both who and what they are, but also what they are capable of.
Nicole Isom, the head of Hueman's own DEI department, talks about how important the focus on DEI within companies is for minorities, "If you can't see my most obvious characteristics, you're not seeing me at all. I love being a woman. I love being Black. I love being a Millennial. But there are still so many other attributes that I have, which can't be seen by the eye. That's why having a DEI focus at work is so moving. We [at Hueman] are taking actionable steps to see and celebrate everyone, just for who they are. A place where everybody is somebody."
Why is it important for company leaders to not only buy-in, but also be strong advocates for their DEI department?
Isom sums it up best: "In order for DEI to become part of our DNA, leadership buy-in and advocacy is a must. We look to our leaders for guidance in every area of the business and this is no different. They will be the ones to align DEI into our business and people goals."
When business leaders take the initiative to make DEI a priority in their business, they are setting their company up for success. Not only is there a social argument for buying into a DEI, there is an economic argument as well.The Center For American Progress found that workplace discrimination costs businesses $64 billion annually.
Whereas organizations who buy-in to their diverse talent pools are considered stronger and more efficient. Tiffany Collins, the Resident/Diversity Recruiter for one of our clients, sees the importance of an established DEI department: "Having a DEI department helps ALL employees feel included and ensures that ALL employees are able to bring their full selves to work and expect to be treated the same way."
As the world evolves, especially in the workplace, it is important to put DEI at the forefront of every business. When leadership chooses to put a focus on strengthening their hiring pool through diversity, equity, and inclusion, they can ensure they are creating a safe and strong work environment. And when there is an emphasis put on diversity, equity, and inclusion throughout the company as a whole, it is setting up the company for success.
Not just success in the area of statistics, but in creating a positive and healthy environment for everyone in the office--virtual or in person. Seeing strength in a diverse and inclusive work space is the key to being successful. When companies invest in diversity, they are more likely to get fresh, new ideas. [Managers] can leverage each individual's strengths and bring them together to work toward a common goal.
So, what steps does a company need to take to make sure their DEI department is successful?
That completely depends on the kind of company, but it is crucial for every company to have one and for leadership to buy-in and be fully supportive. If you are just getting started, here are some things to consider:
Firstly, establish a team of diverse representatives from your company--people of different races, religions, perspectives--whose voices are the most important to diverse conversations within their field.
Evaluate the environment of the workplace--what areas does DEI need to focus on in your organization? What areas are lacking in inclusivity and diversity?
Make DEI a priority within the company, not a side project. Put it at the forefront of the company, constantly continue to expand it.
Educate employees on the role of DEI within the company and its importance. Involve all employees on the roles the department is playing in the hiring and continued growth of diversity, equity, and inclusion within the business.
Diversity, Equity and Inclusion is not going away. In fact, it will always play a crucial role in the workforce. As the world evolves and people become more educated on the role that inequality plays in the workplace, DEI will be crucial to keep companies growing.
Felicia Jadzack puts it best, "There's never going to be an end-stage of perfection where you've checked off all the boxes on a list or you've achieved gold star status. There will always be something to work on. Part of this is because our understanding and our definitions are nuanced and they're ever-evolving. The language that we're using, and how we're thinking about these topics, these terms and concepts, are...constantly changing."