Recruitment Process Outsourcing (RPO) has become a popular way for companies to streamline their recruitment function and achieve better hiring results. A significant benefit of working with an RPO provider is their ability to make data-driven recruiting decisions for their partners using insights derived from tracking Key Performance Indicators (KPIs).
In this blog, we'll define some of the most common recruitment KPIs, explain how RPO providers hold their recruiters accountable to meet hiring goals, and how they report valuable insights to their clients.
What

are

Recruitment KPIs?
Recruitment KPIs are measurable metrics that are used to evaluate and track the success of an organization's
talent acquisition function
.
These KPIs help organizations assess the effectiveness of their recruitment strategies and
identif
y
areas for improvement.
How do RPO Providers Track KPIs?
RPO providers use a variety of tools and technologies to track and report recruitment metrics and adhere to Service Level Agreements (SLAs).
They will leverage an Applicant Tracking System (ATS) to track recruitment metrics such as time-to-fill, cost-per-hire, applicant volume, and candidate quality. Recruiters spend most of their time in an ATS to store and manage resumes, candidate profiles, and job postings, so naturally, it's a great central location for data capture.
A good RPO provider has experience with most ATS platforms on the market, so they can seamlessly integrate into a client's existing technology without investing in additional tools.
In addition to an ATS, RPO providers will likely use other tools such as Microsoft Power BI to track data and provide respective reporting. Using data from an integrated ATS, this tool allows for the creation of interactive dashboards using real-time data. Dashboards, like the one shown below, are a great way to show a client's recruitment progress visually.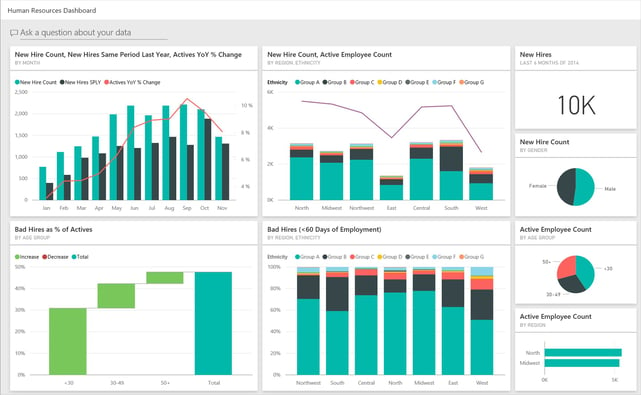 RPO providers may also gather information from specific job boards (i.e., Indeed) and marketing platforms (i.e., MailChimp). Doing so allows for a holistic look at a team's recruiting efforts.
Which KPIs do RPO Providers Measure?
Deciding which recruitment KPIs to measure will depend greatly on an organization's unique goals and areas of focus. If you choose to work with an RPO provider, they will work closely with you during the implementation phase of the partnership to clearly define and establish KPI goals.
Here are some of the most common recruitment KPIs broken down into categories:
Speed & Cost:
Time-to-fill:

The time it takes to fill a vacant position from the moment the job opening is posted to the day the candidate is hired.

Cost-per-hire: T

he total cost to fill an open position. This number should include all recruitment-related expenses such as marketing, advertising, and recruitment technology.

Candidate Time in Process:

The time it takes a candidate to complete the recruitment process

from the time they apply for a job to the day they start.
Sourcing & Application:
Application Completion Rate:

The ratio of applicants who begin to fill an application compared

to the number of completed and submitted applications.

Source Channel Efficiency:

Indicates the effectiveness of different recruitment channels such as

job boards, social media, and employee referrals.

Diversity Candidate Sources & Applications:

This metric reveals where diverse candidates

are being sourced and whether job descriptions and employer branding are inclusive.
Hiring Process:
Submission to Interview:

The ratio of candidates submitted to the number of interviews.

This metric provides insight into candidate quality and manager responsiveness.

Interview to Offer Extended:

The number of interviews performed divided by the number of offers extended.

This metric provides insight into candidate quality and manager expectations.

Interviews to Hire: T

he number of candidates who are interviewed before a job offer is

extended.

Submission to Hire:

The number of submissions it took to achieve a new hire. This metric looks at recruiter effectiveness and ability to present managers with the best candidates.

Offer-Acceptance Rate:

The percentage of job offers that are accepted by candidates.

Candidate Satisfaction:

Reveals whether candidates like / dislike the candidate

experience. Feedback is typically collected through short surveys.
A best practice is to look at the activity funnel weekly and calculate performance ratios monthly with a 12-month look back.
Recruitment Outcomes:
Hiring Manager Satisfaction:

Gauges the quality of candidates provided and the overall

recruitment experience including communication and timeliness.

Turnover Rate:

This measures the percentage of employees who leave the company within a

given period such as the first three months, six months, or within the first year.

Retention Rate:

Measures how long staff stays on the job and provides information about

the working environment.
In complement to turnover rate data, the retention rate offers a more comprehensive picture of employee resignations. A corporation should aim for an average personnel turnover rate of 10% and retention rates of 90% or more.
Quality of Hire:

Measures the value a new hire brings to the company. This can be determined

by considering the metrics above: hiring manager satisfaction, turnover

and retention, and job performance.
How RPO Providers Manage Recruiters and Drive Performance
RPO partners typically have a team of dedicated recruiters for each client account. They use several methods to monitor and evaluate their recruiters, hold them accountable for their performance, and ensure they are on track to meet hiring goals.
At Hueman, we use a "Recruiter Scorecard" to establish and track recruiter goals. These scorecards measure the individual efforts of our recruiters and are reviewed weekly by their managers and during operational discussions between Hueman and our partners.
In addition to measuring the above KPIs, we hold our recruiters accountable to the following metrics:
Activity metrics:
Volume of calls

Quantity of talk time

Number of emails sent

Number of quality contacts

Interviews per week
Position metrics:
Number of requisitions

Number of candidate presentations

Percentage of jobs presented against

Number of interviews, offers, hires, aged jobs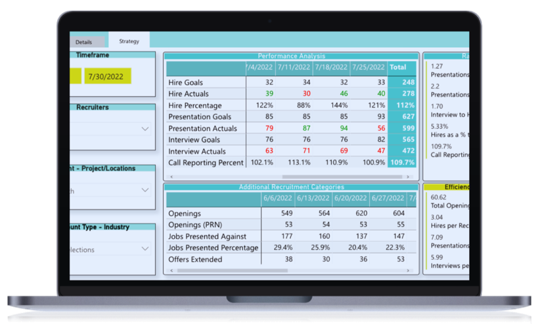 We also use a call tracking system to measure volume of calls and quantity of talk time per day and week. This data is stack ranked by every recruiter and shared each week among the leadership team and recruiters to provide transparency and uncover training opportunities.
RPO providers usually hold regular performance reviews or check-ins with recruiters to discuss progress, challenges, and areas for improvement.
These reviews can help identify any issues or roadblocks preventing the recruitment team from meeting their goals and provide an opportunity to offer support and training where necessary.
How do RPO Providers Report and Analyze KPIs?
One of the key benefits of working with an RPO partner is the valuable data-driven insights they can provide into the recruitment function's progress. A good RPO partner will provide detailed reports that include insights on:
Recruitment Metrics: Recruitment metrics paint the full picture of the current state of the RPO program. Metrics can include the number of total openings, age of openings, number of candidates sourced and submitted, and percentage of jobs presented against. These metrics help clients understand how the RPO provider is trending to meet their goals.
Candidate Data: An RPO partner can provide detailed data on candidates, including demographics, skills, and experience. This data can identify trends in the candidate pool and help clients make data-driven decisions about recruitment. In addition, it provides valuable insights into DEI recruiting initiatives.
Process Analysis: An RPO partner can analyze the recruitment process and provide insights into areas that may be causing delays or inefficiencies. This analysis can help clients optimize their recruitment process and improve hiring efficiency.
An RPO partner should establish management frameworks with a client to define how often to discuss reports, strategic planning, and partnership reviews. This helps promote transparency in a partnership and ensures clients are kept informed.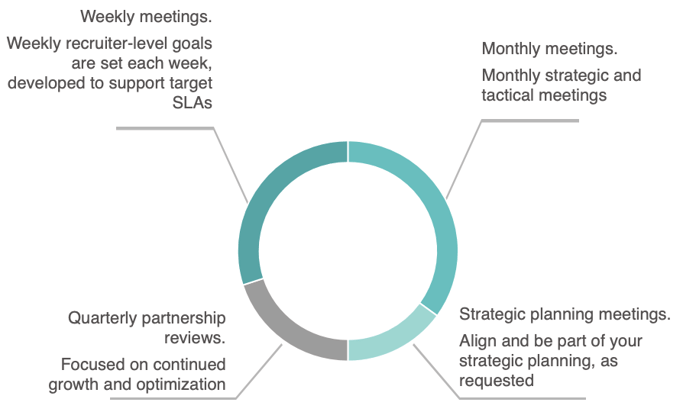 At Hueman, we use SLA Trackers for each of our partnerships to provide transparency and visibility to our partners. They show real-time data to track whether we are meeting or exceeding the goals of our partnership. Continuously tracking against our SLAs ensures that all levels of our organization, from recruiters to leadership, exceed expectations and drive accountability for our partners.
__
Tracking and analyzing KPIs is necessary to attain data-driven insights and continuously optimize your recruitment process. However, it can be overwhelming without the right technology and support.
If your organization could benefit from a data-driven recruitment approach, you can rely on an RPO partner like Hueman to take this responsibility off your plate.
Contact us today to learn more!