Here's a tongue twister: if recruiters can't find recruiters, how will recruiters get recruited to recruit? Lately, "now hiring" signs have become an all too familiar sight on any excursion to brick and mortar businesses. A scroll through your LinkedIn feed will present the same information: everyone is hiring.
Where have all the recruiters gone?



Talent acquisition teams and recruiting firms have been hit particularly hard, with ZipRecruiter reporting that job postings for recruiters have more than doubled since February 2020 to nearly 148,000 by Q4 of 2021.
In fact, the demand for recruiters is outpacing the current supply as illustrated in the below data.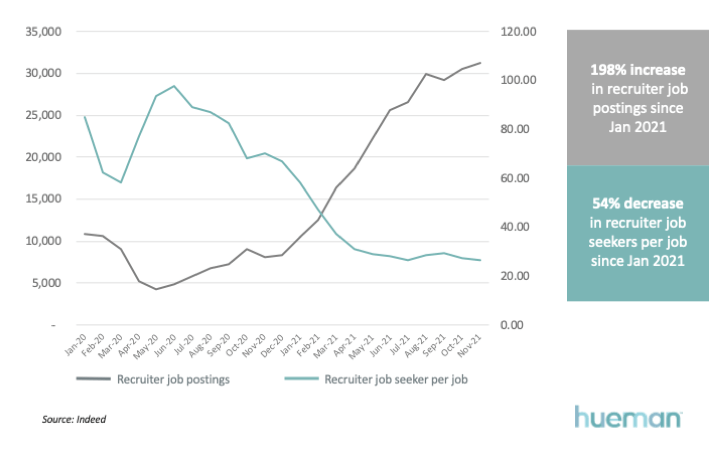 In 2020, many recruiters were laid off when the job market crashed and found roles where their skills were transferable—and many left the industry without looking back, hence the heightened demand, according to Forbes.
"Many don't know recruiting is a viable career option," one expert shared with the Wall Street Journal. Recruiting is a unique field because it doesn't require a degree or certification, and needed skills are transferable across various industries—and these skills, especially with the onset of the pandemic, are constantly evolving.
Attracting and retaining recruiters in today's job market



Job-seeking recruiters are looking for various components that define a good work environment like work-life balance, compensation, and culture. An environment where they feel supported and are equipped with the right tools and training opportunities, and a career trajectory for personal development is vital in attracting and retaining recruiters.
The LinkedIn Talent Blog states, "Job security jumped 21% as a priority for recruiters when job hunting, followed by a purposeful mission, which rose 19%. Recruiter candidates may be especially receptive to outreach that is mission-based or addresses job security."
"Hueman makes employee engagement and retention a top priority through a variety of strategies. We believe in a 'work hard, play hard' environment where there are plenty of opportunities to let loose and have fun with individual teams and the company at large.

In turn, we are also proactive about talking to our employees on a regular basis about their wants and needs for their careers. We take those conversations seriously and work hard to incorporate the feedback to tailor each individual's experience at Hueman." - Ashley Boutwell, Director of RPO Services at Hueman
The Hueman Way



While culture is a major component of Hueman's recruiter retention, our comprehensive training process is critical to the success of our employees. When recruiters have effective tools in their toolbox, both recruiters and prospective candidates can expect an overall great experience.
As a Recruitment Process Outsourcing organization that supports talent acquisition for all types of organizations nationwide, we know the importance of preparing our recruiters to be successful through training, effective processes, and access to the latest technology.
The key to our training program is that it doesn't end after orientation. Ongoing training and continuing education are conducted year-round for all of our employees. As the talent landscape changes, we ensure that our recruiters and employees have the most up-to-date training on tactics and technology to support them.
Hueman has seen massive success with these practices in place, having hired over 180 new recruiters in 2021.
Some of the key tactics that we've found successful in recruiting and hiring recruiters include:
A highly incentivized employee referral program that offers a referral bonus

Strategically sourcing passive candidates who may or may not have recruiting experience, but have experiences that are transferable to successful recruiting

Selling Hueman's culture to potential candidates by focusing on company core values and initiatives

Increased marketing efforts with partners like Indeed and LinkedIn to ensure our jobs are visible and top-of-mind for candidates
As a Recruitment Process Outsourcing (RPO) partner, Hueman provides a world-class recruitment strategy to help you find and retain top talent. Contact us today to see how we can help!