It's no secret that the transition from the traditional office environment to a remote work model caused by the Covid-19 pandemic was (and potentially still is) a strain on many companies and professionals. From the logistics and IT business challenges to the personnel stressors of balancing childcare, at-home schooling, and work — not many remain unscathed by the trials of remote work.
The pandemic's abrupt nature left many employers ill-equipped to handle such a transition.
Now that the infrastructure is in place and most companies have fully adapted, some even plan on keeping remote work a major part of their post-pandemic plans. In fact, 74% of companies plan to permanently shift employees to remote work after the Covid-19 crisis ends.
Supervision of remote employees has presented some unique challenges for people leaders with the following issues raised:
A disconnect between managers and team members

Loss of productivity and task management

Lack of manager confidence due to employees being out of sight
Without a culture built on trust, empathy, and accountability, managers can expect to continue to endure these challenges.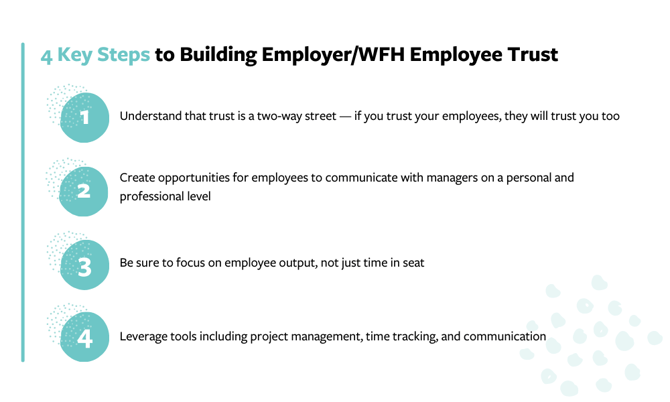 Trust Is Paramount
When a supportive work environment is lacking, feelings of separation between managers and their employees may arise. According to the Harvard Business Review, 34% of employees felt that their supervisors "expressed a lack of confidence in their work skills," and more significantly, workers reported feeling that they needed to be constantly available.
Regularly communicating with employees is a necessity that builds trust with employees. Constant employee engagement creates space for employees to feel comfortable talking to their managers and team leads about their life and work experiences.
Managers should offer a clear picture of what the day-to-day should look like by helping employees set and maintain healthy work hours, encouraging them to create a priority list, and suggesting accountability partners on their team. This level of consideration for work-life balance will be a factor that motivates employees to get the job done within their set hours. Offering employees resources outside of the professional realm that focus on their physical or mental health cultivates an atmosphere of support.
Focus on outcomes, not time in the seat or being active online at all hours of the day. Micromanaging employees not only leads to poor performance but can be isolating and lead to heightened stress and feelings of resentment. According to Monday.com, focusing on outcomes over output empowers and connects employees to the company.
Tools for Success
There are a number of existing programs to help gauge employee workload. Time tracking software such as Monday or Timesheets allows employers to monitor workload and helps employees organize and prioritize their projects and track time. Google Workspace and its ecosystem of web tools feature familiar programs ideal for composition, creation, and collaboration.
Programs like Slack, Discord, or Microsoft Teams are great tools that allow managers to stay connected with their employees. These tools facilitate professional and casual conversation and provide a platform for teams to engage and connect outside of weekly team calls.
Providing valuable resources that facilitate connection and build a culture of trust brings immeasurable benefits to the workforce.
Looking for more tips for managing remote employees? Read our blog, "Keeping Your Employees Engaged and Productive in a Remote Working Environment."