A lot has changed for me over the past two years.
In 2016, I sold the recruitment company I founded in my spare bedroom 20-plus years ago: PPR Talent Management Group. This was a decision largely based on the incredible success of our recruitment process outsourcing arm. We had been thriving for eight years, and it was time to take this business out on its own.
I am still involved with PPR as a board member and consultant, but my new role? Hueman's CEO: developing and growing a business in its infancy—similar to what I did with PPR so many years ago. But this is a bit different.
I'm not a young newlywed. I have a family.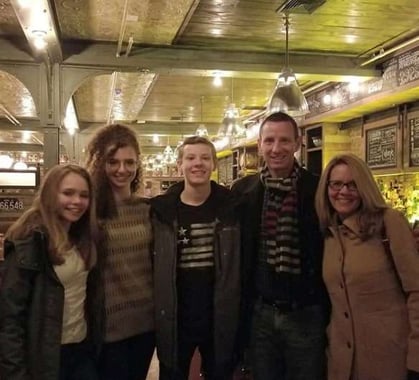 I'm not working 80 hours a week in my spare bedroom.
I'm not a one-man show.
My wife and I are celebrating our 24th year of marriage.
I'm a proud father to my daughter Peyton, 18 and twins Logan and Jordan, 15.
I have an incredible team by my side.
But, when moving forward, it's helped to apply what I've learned when I take a look back. I'm lucky to have learned plenty, and I hope to never stop learning.
One of my current employees at Hueman recently interviewed me for his podcast about my journey—30 years ago to right now. I took a trip down memory lane, discussing the early days of PPR, my days as an assistant college basketball coach and young entrepreneur, and my future.
I've learned countless things over the past 20 years, here are some that molded me into the person I am today.
1. It's all about timing.
Timing has a lot to do with most entrepreneurs' success stories—and I'm not immune to that. The timing of the opportunity to start PPR Talent Management Group came from a time when I was newly married. I had a wife who had a great job. We didn't have children to support yet. I was in a great place to make big sacrifices. I could quit my job and put in the effort and time it takes to start a business.
So, I did it.
And when you're in the beginning stages of starting a business, there is a certain element of having to outwork the competition. You don't have work-life balance.
As I've matured, I've developed a much clearer understanding of how important work-life balance is. But, that's not exactly consistent with a startup. They were literally 80-hour weeks. I would wake up in the morning and I would spend typical work hours calling businesses, trying to sell our services. And when they were closed, I would call candidates and try to recruit them. This would go on for a couple of years.
Starting a business from scratch is one of the most difficult things I've ever done. However, with Hueman, it was a bit different. We had the luxury of leadership and expertise built up over 20 years to found (and fund) our new business. Whereas it took us years and years to build that at PPR, this time, we had that instantly.
The timing is an important part of being a successful entrepreneur. Not only do your personal circumstances have to be aligned with what has to happen to be successful, but there are certain environmental circumstances that need to line up, too.
2. Engage your workforce.
Having an engaged workforce and being a "great place to work" is, itself, work. It's by design—highly prescriptive, applying rigor, measurement, processes and systems that can help to keep you disciplined.
It's about blocking and tackling, so to speak. You need to create the right environment that's going to attract the right people and engage them. At the end of the day, it's that engagement that leads to serving a customer better and growing your business.
3. We're all in the people business.
The whole basis of our business is creating a great place to work. We believe if we do that, then the rest will take care of itself.
How, exactly?
We create a great place to work which leads us to have a better, more engaged workforce than our competition.
Listen, I didn't invent any of these concepts. I learned from fantastic mentors, coaches and business authors such as Jim Collins, Pat Lencioni, Verne Harnish and Marshall Goldsmith.
Collins' work was instrumental in my businesses' early days when we were trying to define WHO we were. Most people talk about his first piece, "Good to Great"—the whole get the right people on the right bus deal.
"They start by getting the right people on the bus, the wrong people off the bus, and the right people in the right seats. And they stick with that discipline—first the people, then the direction—no matter how dire the circumstances."
This is important. But, if you go back to his bestseller, "Built To Last," it's all about identifying your core ideology—and living it.
"The only truly reliable source of stability is a strong inner core and the willingness to change and adapt everything except that core."
That's what I've found to be key.
4. Your company's core values are important…
When you're building an organization (and growing an organization), you tend to hire people with similar values to you. You want to hire the right culture fits, right? You already have a baseline of people who have similar values.
When we were defining our company's core values, we had our leaders brainstorm a list of what they thought our company's core values were.
There was lots of discussion, lots of reprioritizing. All of the values were legitimate and were under consideration. But core values are a small group of the values that are most consistent with the people that are working together. That's what we were after.
It took a long time to do and a long time to get it right. But we did.
However, let me tell you what I would've done differently back then.
5. ...and so are your own core values.
Only later did I take the time to see my own core values more clearly.
Our leaders didn't do that in the room the day we were defining our company's core values. I would've liked to have had a few hours to go through an exploration of the individuals—the pioneers of our business—and have them build out their own values.
Because if you haven't gone through that exercise, then you aren't really clear what the values that are most core to you are. Once you get clear on that, it certainly makes the conversation easier on what you are together.
6. It's not about what you do, it's about who you do it with.
The longer I spend in business, the more I realize why I do it.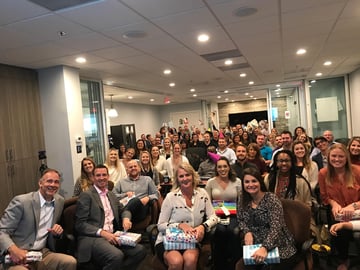 It's not really about what I do, it's about who I do it with.
Most of my memories with our businesses are about relationships with people. And to be honest with you, many of those memories were born out of really difficult times…
7. Good things are born from bad times.
I'm writing this blog in one of the conference rooms at PPR. In fact, since I left as CEO, they renamed this room to "The Coop" after me—(way cool, and very humbling.)
I sat back in this room in 2009 when we had to lay people off because we were hurting from the effects of the Great Recession. I was sitting in this room crying with the people that had become my family.
We laid off a big group and the rest of us were sitting in this room talking about it, talking about the way out and where we'd go from there. It was waterworks in this room.
You may be thinking that this is strange for me to look back on as a fond memory. I'm getting to that.
You see, this was an incredible bonding experience. And a place innovative, cool new things were born from.
When you're in a place where your back is against the wall and you have a certain amount of desperation and know it's not going to be easy, that's where you can build the best relationships and do the best work. When you're least incented to change, it is hard to change. That creates great incentives to do great work.
8. Stop managing and start coaching.
I have a deep history with the sport of basketball. I've played it, I've coached it and I still love it.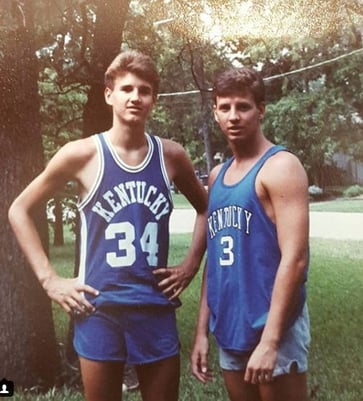 But, I had a passion for the game and as a hobby in college at Florida State University, I started coaching ball at a high school in Tallahassee. It wasn't long after I was coaching in high school when FSU's head basketball coach invited me to be a director at his basketball camps. Later, he asked me to take it on the road and do a statewide camp. That exposure to camps and the staff at Florida State got me involved in coaching at a deeper level. I didn't have an intention to have a career in it, but all of a sudden, I did.
Next thing you know I was here in Jacksonville at the University of North Florida for the inception of its basketball program. I was the first full-time assistant in the history of UNF's basketball program. These experiences have been invaluable to my career.
There are so many parallels between sports and business. And as leaders and managers, we need to get out of the business of managing and into the business of coaching—especially in the work dynamics of today.
We need to inspire our teammates.
We need to build trusting relationships with our teammates.
They want to get better. OK, so how do we help them get better? How do we have an interaction that makes them a little bit better today than they were yesterday? Or a little bit better this week than they were last week?
That's what coaching is all about.
9. Nurture the

camaraderie

of your team.
If you ask any athlete or coach what they love most about what they do, I bet they'd all say the camaraderie of their team.
Well, I loved that part of it.
It goes back to what I talked about earlier with going through difficult times with people. Sports are full of difficult times. Physical and mental challenges are constantly thrown at you. In basketball, or any team sport, you must come together and create solutions together or you won't be successful. That's a great lesson.
10. Give back to your community and the causes your employees are passionate about.
When we started having financial success at PPR, charities would reach out to us for sponsorships, and I would just write a check. I did that for a few years until one day, I realized that simply writing checks to these organizations wasn't so fulfilling. I wanted to do something. I wanted to be a doer.
At the time, I was still a young entrepreneur, so navigating community engagement was relatively new to me. I sought out ways to get involved through charity committees and boards so I could take some of the things I'd learned in business and apply it to those organizations to help them be better. That was my initial approach.
It was in these positions that I witnessed how underserved some volunteer organizations are from a wisdom, intellectual property and strategic perspective. I was quick to identify an opportunity to really make a difference to apply some strategic leadership to nonprofit organizations which has given me the opportunity to chair a number of organizations. But, I try to do it differently.
If I am going to chair an organization, I am all in. I'm not just going to show up for the meetings once a quarter. I'm going to try to help the strategic direction of organizations (I've done this for my kids' schools, the community little league, the National M.S. Society, UNF, the Gator Bowl Association, etc.)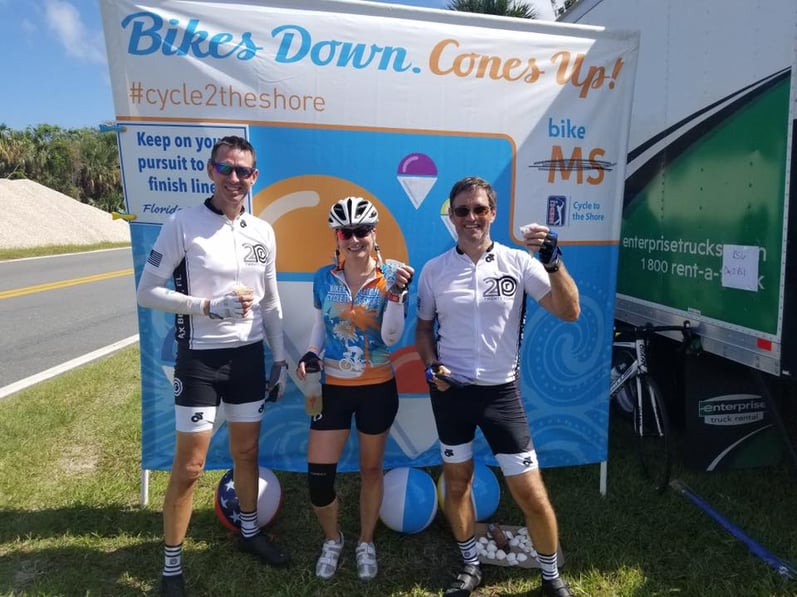 And because I have had lots of opportunities to work with nonprofits in the First Coast community, I've been able to expose people from our business to those opportunities, too.
Sure, community involvement starts with volunteering, but once we end up being good volunteers and foot soldiers, there are other opportunities. We have had the chance to matriculate some young leaders in our business to board seats, for example. That's one of the things I'm most proud of.
I'm proud of Hueman and PPR's ongoing commitment to the community. It's a fundamental role that businesses play, and we want to be at the forefront of that. We all have great ideas about doing that. Our hearts are in the right place, but deciding to do it, and making the commitment to do it, is a whole different thing. That step doesn't happen often enough. That's putting it on the calendar. If you start putting those things on the calendar, next thing you know you're making a real impact.
11. Prioritize your family.
In 2016, I sold PPR and am now a board member and consultant with the company I helped found over 20 years ago. Then, I founded PPR's spinoff business: Hueman. I'm in a new role now. While I'm Hueman's CEO, I'm trying to have the right balance of spending time with my family and working, because I love what I do.
The main reason I love it? I get to work with the people I love and care about. Every day, I get to come in, do something with them and try to meet another challenge.
I'm not the retired guy type. I'll do something like this or this for as long as I possibly can. I enjoy relationships with customers and employees.
Business is an important part of my life, but I'm not defined by it. I have a family, I have kids, I have hobbies. I want to make sure the balance that wasn't there in the beginning is there now, because it can be.
Interested in learning more from me and my team? Email us at info@huemanrpo.com. We'd be happy to chat.