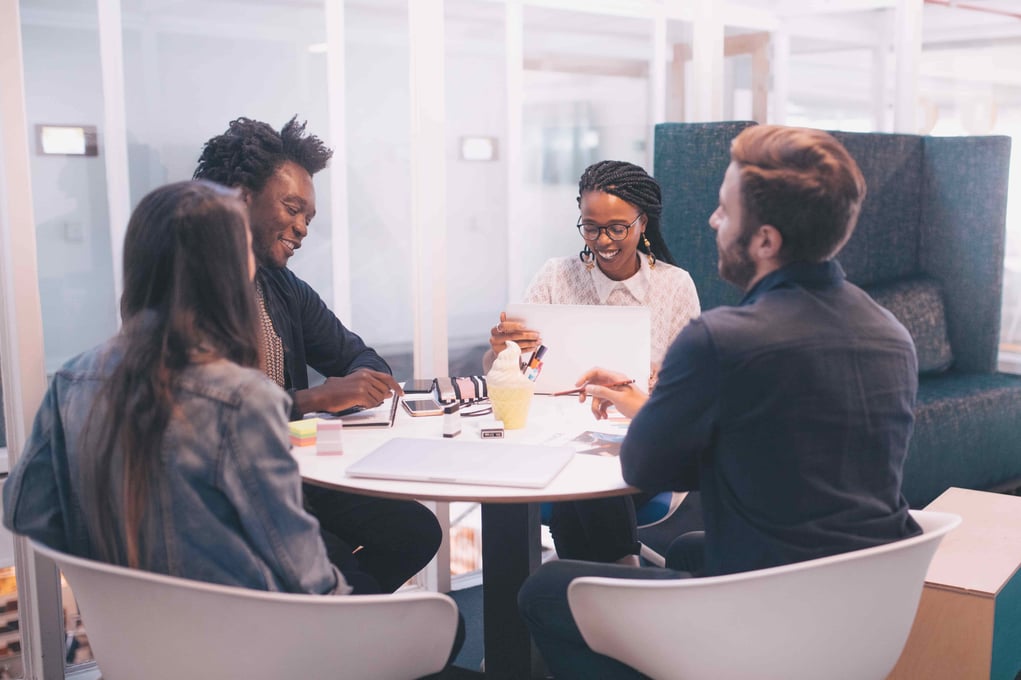 In today's world, applicants know the job market better than employers do. With so many sources available for candidates to conduct research, applicants can better understand their worth, as well as an employer's reputation. That's why it's crucial for employers to stay on top of the ever-changing trends in the workforce. Our partners at the Recruitment Process Outsourcing Association (RPOA) and Aberdeen collaborated to provide a comprehensive report on RPO and the Segmented Workforce, giving some insights into these trends. In this post, we'll highlight three ways the state of the workforce is impacting jobs and help you understand how to adapt your recruitment strategies based on the findings.
1. There's a rapid increase in new jobs.
According to a study by Georgetown University, there is expected to be 55 million new jobs in the year 2020. Where will these new jobs be coming from? A large majority will be newly created jobs, some will be open as a result of retirement, and others from employee turnover.
Figure 1: Rapid Growth of Job Openings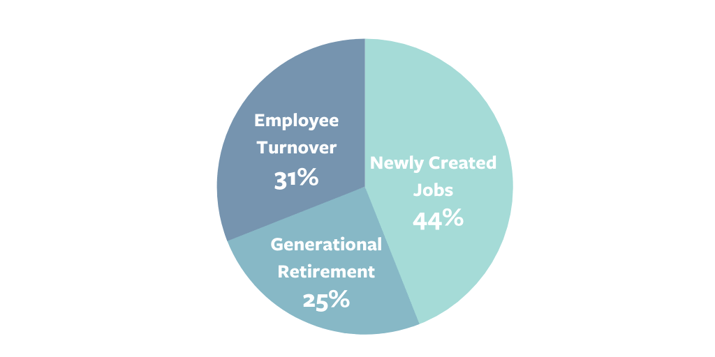 This graph tells us that hiring top talent for your business in any given field is more competitive, and crucial, than ever. The rapid growth of job openings also brings temptations for applicants to leave their current job for new opportunities. You must ensure your business is standing out above the crowd in new ways. This could be through digital recruitment marketing strategies, a ramp up in your employee engagement or merely finding new ways to recruit candidates—just make sure you're rising to the top for your target talent.
2. Rethink your qualifications.
Employers desire highly-trained people to fill their job openings. But those highly-trained and experienced candidates know their worth and therefore expect to be compensated for all of their hard work through higher pay and opportunities to progress upward in the company. And unfortunately, employers aren't always willing to give that. So, instead the employer decides to keep looking for candidates using job postings that look something like this:
Bachelor's degree
2-5 years experience in an entry-level position
These are typical requirements we see over and over again in the job market. But, as time goes on, more and more people obtain a Bachelor's degree and for a candidate to show differentiation, a Master's degree is required. Simultaneously, younger generations are deciding to forego formal education as the price continues to increase.
The employee response to the wishes of the employers is that all of those requirements and high-level desires are quickly weeding out good, talented candidates.
Instead, employers should look for the candidate who relates and identifies with the mission and vision of the company — a culture fit. If the company can view them as a fit because of shared values, they can invest in the employee to a degree of specialization.
3. Hire the right person for the job at hand.
According to the Bureau of Labor Statistics, unemployment rates have fallen to a whopping 3.6 percent. The latest job statistics from the Bureau of Labor Statistics in March 2019 stated there were 7.5 million job openings, and throughout the month of March, there were 5.7 million hires. The rate of quits didn't waver, staying at 2.3 percent, layoffs and discharges at 1.1 percent, and the rate of hires at 3.8 percent. While the percentage of job openings was at a whopping 4.7 percent.
Figure 2: Percentage of Labor Rates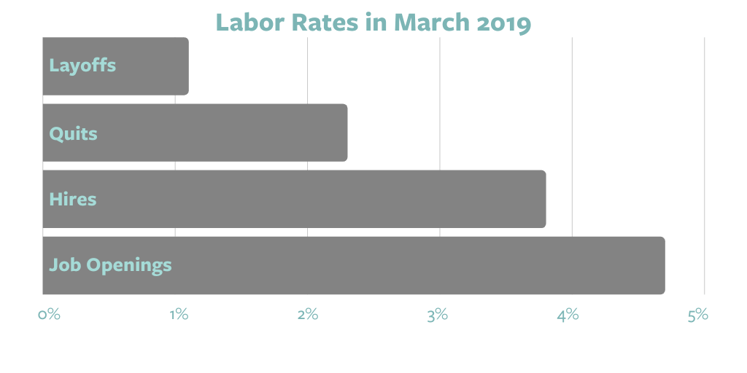 We can see that hiring is taking place, but what if the people being hired are not a good fit for the company? Let's take a look at some standout facts and figures from the RPOA and Aberdeen's report: RPO and the Segmented Workforce.
84 percent of companies are hiring under pressure to fill skill gaps.
When you have job openings, focus on finding the right fit for your business, not the most available. When people are prodded to fill a position and fill them quickly, it's easy to make a bad hire and end up with employees that do not have the talent an organization wants or needs.
78 percent of companies fail to recruit top-quality talent.
It's important to remember that quality is better than quantity—especially in recruitment. Filling 10 open positions quickly, doesn't mean you've been successful. Focusing on quality and a cultural fit does. Keep this in mind when you are itching to fill those open jobs as quickly as possible.
Figure 3: Hiring Mistakes Companies Make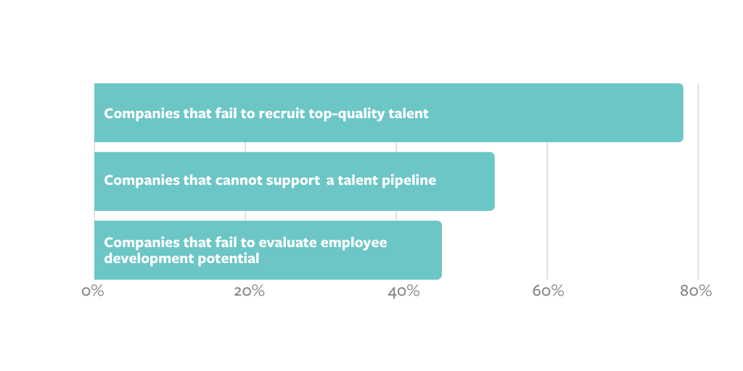 How Recruitment Process Outsourcing (RPO) Can Help You Keep Up with the Workforce Job Trends
The report by RPOA and Aberdeen: RPO and the Segmented Workforce represented the skill gaps between hiring 'quality hires' and the right person for the job. An RPO partner can help your organization stay on top of the the ever-changing workforce. It can be the solution to find top talent for your organization who will stay with your business for the long run. Here are a few other statistics from Aberdeen and the RPOA explaining what an RPO provider can do for you:
68 percent of Best-in-Class companies partner with an RPO partner
42 percent of companies partner with an RPO provider to reconstruct their hiring process and take advantage of external knowledge and resources
41 percent of companies find it easier to prioritize talent within a solidly constructed talent pipeline, their RPO partner, guaranteeing them talented, quality candidates
RPO users are 17 to 20 percent more likely than non-RPO users to find that more than 50 percent of their workforce is top quality
If you have some more questions about RPO and how it can help your company, read our comprehensive guide to RPO. If you are ready to give RPO a shot, let us know — we'd be happy to chat.