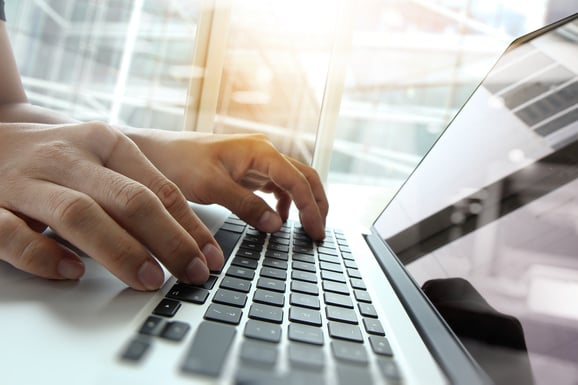 A good job description is important to reaching the right candidates. As mentioned in our last blog, to find the perfect candidate, you must think beyond the apparent list of job requirements. You want to stand out and to do that you need to make sure your company and job posts are ranking high across all search engines. This is where Search Engine Optimization (SEO) comes into play. Understanding the role that SEO plays in promoting both your company and job opportunities to future candidates is incredibly important to your success. As world-class leaders in digital recruitment marketing, Hueman knows that SEO plays a huge role in our own marketing efforts and success in finding our partners the best candidates. In this blog, we are going to give you some pointers to strengthen your own job posts through SEO optimization.
What does SEO mean and why is it important?
SEO stands for Search Engine Optimization. It is the process of improving the visibility/rank of a website in a search engine's unpaid results listing-- SEO is designed to increase both the quality and quantity of website traffic by understanding what people are searching for, which boosts your site's ranking. Having a strong, SEO-optimized job description is crucial to successfully marketing your job. The more SEO-friendly your website and job descriptions are, the more traffic you'll ultimately get. If you want to reach your targeted audience, it is important that you are using the correct keywords and formatting to reach specific candidates.
To start, It's important to know the difference between a job description and a job posting
A job description is an internal document that captures the responsibilities and is the official document that follows the guidelines of the company's HR policies.
A job posting is a job advertisement to market and attract job applicants. This nuance is exceptionally important for digital marketing.
All job postings are created with the same goal in mind: to be viewed by candidates with the ultimate goal of getting qualified candidates to apply to your job.
The more potential candidates that see your job posting(s), the better your chances are of attracting top-notch applicants. With so many ways to reach candidates, you want your posts to be strong and stand out amongst a sea of job postings. Writing a strong SEO job posting is key to that.
Writing a strong SEO-optimized job posting
To write a strong SEO-optimized job posting, start by reviewing 4 things:
Is your content relevant to what the visitor is searching for? Does the job post use specific terminology related to the roles of the position? Does it explain what the role consists of without flowering or excessive language?
Are your job postings and links appealing and trustworthy? Do they lead back to secure sites and use professional language?
Do you have a strong online presence? Are you established on social media platforms (Facebook, Twitter, Instagram, etc.)? Do you have a secured website?
Does Google (and other search engines) consider you trustworthy? Are you verified on search engines (check your website status of Google Safe Browsing if you are unsure)?
The more effective you are with your placement and choice of keywords, the more people searching for those terms will have visibility to your job openings.
Here is a detailed breakdown of a strong SEO job post: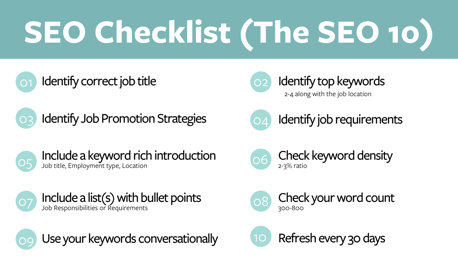 When writing a job posting, rely on this motto--Write for Humans, optimize for Google. A strong, search engine optimized job post will not only rank you higher on search engines, it will generate more candidate applications for your position. Following our SEO checklist, you can build a strong job description that reaches a wide audience and ranks high on search engine results.
Interested in learning more information about job posting best practices and how to attract quality candidates? Download our latest eBook, The World-Class Recruitment Guide, for everything you need to know.