With millions of job seekers actively engaging online, it has become essential for organizations to master the art of advertising job postings online.
At a basic level, posting a job online is a pretty straightforward process. Write a job description, choose a job board, and post it. However, you'll need to go the extra mile to maximize the number of people who see your posting and fit your candidate persona.
From crafting your candidate persona to selecting the right platforms, we'll explore practical strategies to ensure your job postings stand out in a saturated job market.
Who is your ideal candidate?
In marketing, knowing your target audience is a must. Recruitment marketing is no different. To attract the right applicants, you need to understand your ideal candidate by developing a candidate persona.
To do so, you'll want to imagine the perfect hire for a particular role and then define their corresponding traits.
A few traits that you'll need to understand include:
Career Goals
Background and Experience
Interests
Demographics
Proficiency with Technology
If you have employees in similar roles, you can start by asking them questions about each of the traits above. LinkedIn can provide you with a wealth of knowledge if this is a new position in your organization.
Start by visiting the Jobs section and searching for the job title you want to hire. Take note of the background, experience, qualifications, and requirements other organizations seek.
Follow that up by searching for people on LinkedIn currently in that role and gather intel from their profiles. Pay special attention to how these individuals describe themselves in the About section and the skills they list under experience.
Read our blog about developing a candidate persona and how it can strengthen your recruitment strategy to learn more tips.
How to optimize your job posting
Now that you've done the work to define your ideal candidate, you can use that information to develop an effective job description with content that speaks to their interests and values. After doing so, you'll need to incorporate relevant keywords and terms for search engine optimization (SEO).
The goal of SEO in this context is to match your job posting to relevant job seekers who have shown the intent to apply.
SEO stands for "search engine optimization." In simple terms, SEO means improving a website page to increase its visibility in Google, Microsoft Bing, and other search engines. – Search Engine Land
Conduct keyword research for job titles and descriptions
To optimize your job posting, you'll need to find out what people are typing into search engines like Google, to find your job posting. You can use tools such as Google Keyword Planner, Google Trends, and the search engine itself to research keywords.
Google Keyword Planner
The Google Keyword Planner is a tool designed for use with Google Ads. Still, it can provide helpful information when optimizing a job posting for online advertising, such as terms and keywords to include.
Let's say you are looking to hire a recruiter. You can type that into the search bar to view a list of related keyword ideas. Next to each keyword, Google will show you the average monthly searches each word receives.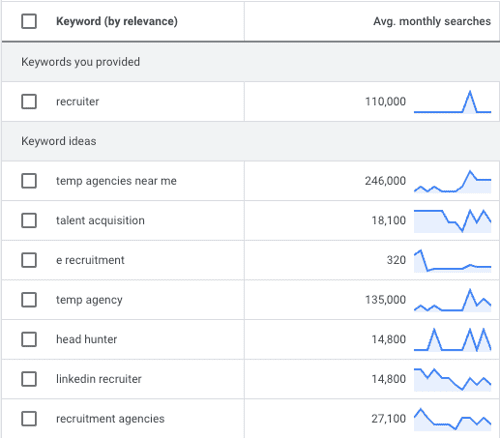 In our example, "temp agency" and "recruitment agency" rank high. If these words were related to your open position, you'd want to include them in the job posting.  
Google Trends
Like the Google Keyword Planner, Google Trends will provide information about specific terms you may want to use to optimize a job posting. However, instead of showing you related keywords and phrases, Google Trends shows a term's popularity in searches over time and associated queries. It also allows you to compare the popularity of terms.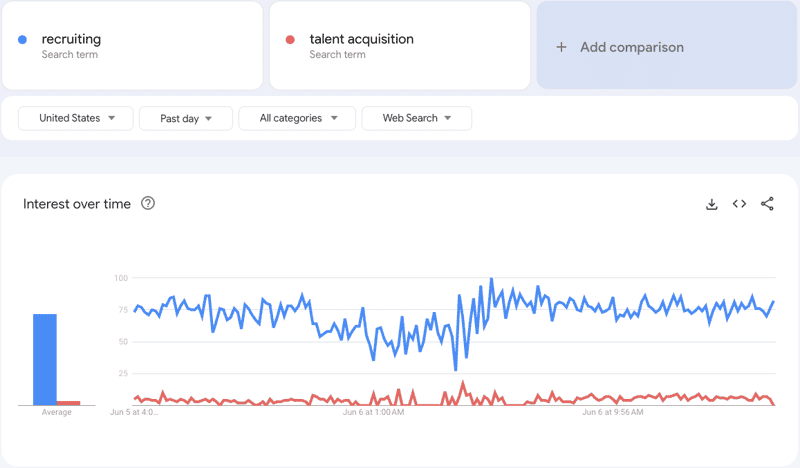 For example, let's compare the terms "Recruiting" and "talent acquisition." Which do you think is the more popular term? If you guessed "Recruiting," you are correct. In this example, you would want to use "recruiting" more often in your job posting because people search for it more often.
Search Engines
Are you curious to know what questions people have about a specific job title or the content they interact with most? Look no further than search engine results. Search engines, like Google and Bing, can tell you a lot if you know where to look. The pages at the top of search engines for job queries are usually educational or informational and are a great place to gather ideas for optimizing your description.
Search engines try to match the searcher's intent, so when you search for a term like "civil engineer job," you will likely see jobs at the top of your results. Pay attention to the titles that appear first. Does your job title fall in line with these results? Using standard titles that people search for is always recommended versus unique ones that your organization may use.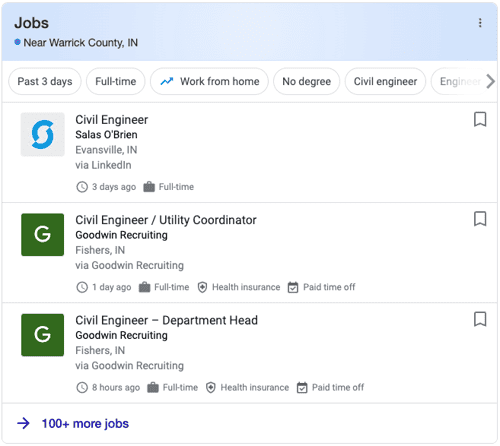 To understand what people are searching for, look at the "People also ask" section. Google will give you the top question-based queries for your search. Are you answering these questions in your job posting?
Using the "civil engineer job" example again, the first question is, "What do civil engineers actually do?" Prioritize answering that question in your job posting.

Now that you know how to research and optimize your job posting for SEO, check out our blog, "How to Write Job Descriptions that Attract Top Talent," for a full rundown of everything needed to garner the best candidates.
Choosing the right place to advertise your job online.
So, you've done your keyword research and created an optimized job posting, and now it's time to post it online, but where?
Where are your candidates searching?
Refer to the candidate persona you created for the open role to answer the following questions::
Is this a highly technical or high-level position?
If so, LinkedIn Jobs might be the place with the highest level of reach and relevance with your ideal candidates. LinkedIn does allow organizations to post a single job for free, but beyond that, you'll need to pay. The power of LinkedIn is that they can use "member profiles to find the people that meet your needs best."
Are you okay with spending more time sifting through applications to maximize a job posting's exposure?
If your answer is "yes," then sites such as Indeed or ZipRecruiter will help you reach a larger candidate pool. However, you may have to review more resumes before starting interview outreach. Indeed touts on its website that they have "over 63.4 million monthly users," so spending time on your job posting's SEO is crucial to success.   
Do you want to reach people "where they live" online?
Facebook (Meta), Google, Twitter, or even TikTok might be the best place to advertise your job. According to Glassdoor, "79% of job applicants use social media in their job search."
Is this a niche role with a limited candidate pool?
If so, consider posting jobs on sites with a specific industry or position focus. One thing to note is that these websites will have less traffic than a place like Indeed receives. However, the candidate pool should be more focused.
Here are a few niche job sites to consider:
How much does it cost to advertise a job online?
While free options are available on some of the job boards listed in the section above, most will require some form of payment for the best results. The cost depends on the website.
Here's a breakdown of the costs of posting jobs on a few of the more popular job sites.
Posting a Job on LinkedIn
LinkedIn charges you when someone clicks on a job post, but they also offer employers the ability to advertise jobs to relevant candidates. It's worth noting that LinkedIn does allow organizations to post one job for free, but to gain meaningful visibility, you'll need to promote the job.  
Posting a Job on Indeed
Indeed charges you per applicant, but the cost depends on the location of the job, the job title, and the number of people looking for jobs in your area. Indeed allows you to set a custom limit on applicants, so you're not surprised with a hefty bill if your sponsored job performs well.
Just like on LinkedIn, Indeed does allow you to post jobs for free, but the visibility will be limited. Sponsored jobs receive prominent placement at the top of search results.
Posting a Job on a Niche Website
Though usually lacking in features and candidate reach, some niche websites allow employers to post jobs for free. Engineering.com doesn't offer paid job ads, only free postings. So, if you're looking for a cost-effective way to post a job ad for an engineer, check it out.
From our experience, it is best to post on these in addition to LinkedIn or a site like Indeed to increase the number of applicants you receive for a job.
For additional statistics on the job websites mentioned above and others, you can refer to our article titled "Essential Job Website Statistics for Your Online Recruitment Strategy."
Measuring Your Investment
Now that you've started advertising your job(s) online, you need to know how well each posting performs. Let's look at a few key performance indicators (KPIs) that you can use to measure success.
# of Impressions – How many potential candidates viewed your job ad within their search results?
# of Views – How many people clicked on a job ad and viewed the posting for your open role?
Click-through Rate (CTR) – How many people saw your job ad and clicked on it? The higher the rate, the more relevant it was to potential candidates.
# of Applicants – How many people applied to your job posting?
Conversion Rate – How many people viewed your job posting and decided to apply? The higher the rate, the more interested people are in your job.
Applicant Quality – How many people who applied for your role match the requirements and qualifications? A high number means your job posting is attracting and converting the right people.
# of Diverse Applicants – How many people from diverse backgrounds applied for your job?
Once you start tracking these metrics, you can make data-driven adjustments to improve performance and find the right candidates for your open role.
Want to speak with an expert about your organization's recruiting processes? Contact us today for a consultative meeting.