A key piece of digital recruitment marketing is simply visibility. When you post your job online, you want to ensure job seekers find it, right? Advertising or sponsoring your job openings on job websites is a way to achieve this and should be a crucial piece of your recruitment strategy.
However, before we dive into investing into advertising, let's ensure you're covering the basics through some simple, free tactics because they can help with visibility, too.
We preach, preach and preach again how important it is to ensure your job openings are search-engine optimized. You need to ensure the terms and words you're using in your job posts are being searched on (ie. make sure they are SEO compliant).
What is the job title you're hiring for? Is this job title commonly used, or is it a fancy, internal name? Crafting the proper job title for your open position will help with the visibility of the job and attract more candidates than others. How do you ensure your job title is searchable and sensible? Perform an online search for some potential job titles and see what comes up. You can use Google Keyword Planner or Google Trends (free!) to discover if the terms you want to use are being searched or which ones may be a better fit.
Where are your candidates searching for jobs?
When considering advertising or sponsoring your job openings, you must determine where the best place to do this may be. Determine what job site platforms your candidates are most active on, whether that may be Indeed, Glassdoor, Google, LinkedIn, Facebook, etc.
A whopping 83 percent of candidates are active on Facebook, 40 percent are active on Twitter and 36 percent are active on LinkedIn.
Consider your specific, ideal candidate's tendencies and behaviors to help drive this decision, as well. We recommend building a candidate persona, or a fictitious representation of your ideal candidate to uncover this information. A candidate persona should define your ideal employee's:
Career goals
Background and experience
Interests – personal and professional
Key demographics (gender, age, and language)
Devices and platforms
Tech proficiency
Including these other aspects (beyond just what their current job title is) will get your job in front of passive job seekers (those who aren't actively looking for a job) and push your job to a broader range of potential candidates. These details are important when thinking about advertising a job, because firmographics and interests play a huge role in identifying target audiences online. Your persona is your blueprint to who you need to attract (or marketpreach to) and unveils where you can find them. For example, say your job candidate is extremely proficient and active on LinkedIn. Consider investing in LinkedIn advertising! Use your demographics, interests and work experience for your targeting parameters when building your ad.
Some Paid Opportunities
LinkedIn - Sponsored Ad: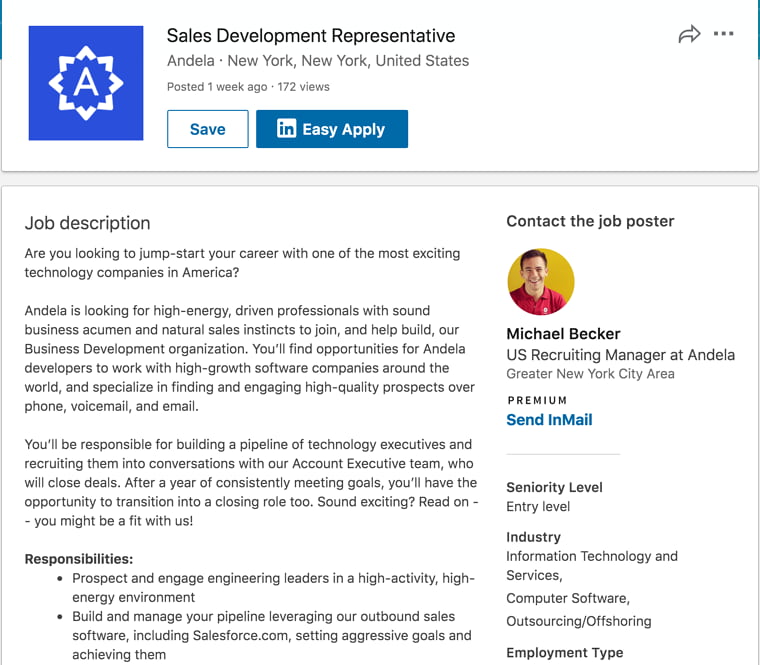 Facebook - Job Posting Ad: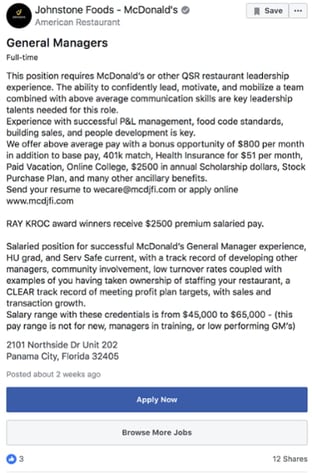 Indeed:

Measuring Your Investment
Advertising jobs online is a key component to your online recruitment strategies and takes time, money and constant improvements. To be successful with online advertising, always remember that what gets measured, gets done. And to get things done in a timely manner don't forget about setting goals!
Of course, what you measure will be dependant on the platforms you're utilizing in your marketing strategy. Here are a few valuable metrics to pay attention to within each of your platforms.
Facebook—Leads, Cost-per-result, demographics
Indeed—Clicks, applies, apply rate, cost-per-click, cost-per-apply, organic traffic
Looking for specific guidance to ensure your candidates see your job openings online? Read our End-to-End World-Class Recruitment Guide to learn even more!