Hueman was recently recognized by
Great Place to Work®
and
FORTUNE
as one of the
Best Small & Medium Workplaces of 2021
. How'd we do it? We strive to create an environment where our employees feel a sense of belonging within our company.
Here are four simple ways we make our Huemans feel like they belong:
1. We create a welcoming experience for our employees.
We want our new employees to feel like they are a Hueman as soon as they are hired. On their first day, new employees arrive at a desk full of welcome cards. Personal, handwritten note cards let new employees know we are excited they are part of our team. Great joy comes from reading these cards and it's always a pleasant surprise!
During Hueman's employee orientation, our new employees learn far more than just the need-to-knows from the HR manual. We, of course, discuss how to best function in the job, and we also dedicate the time to talk about our company history and what makes us who we are. We share information regarding the committees we have and how to join one. Most importantly, we share our core values with them to create a connection with those values. Our orientation series continues for 90 days where they meet with different leaders within our organization to learn about the heart of Hueman.
On a more tangible note, we bring our brand inside the office. Aesthetic is important! It can make or break the atmosphere. We make a point to bring the Hueman brand inside with pops of our colors on the wall, personalized name plates that include celebrity look-a-likes, along with clean and bright collaboration areas. Our office space is designed to fit our employees' passions and personalities. Having a welcoming and conducive workspace keeps employee engagement up.
2. We value transparency within every level of our company.
Here at Hueman, we share our successes and our failures. Transparency is a great way to maintain employee engagement. Every Monday, we have a brief morning meeting with the entire company where we walk through exactly what's going on at Hueman, covering everything from upcoming events to financials. Not only does this meeting bring a sense of clarity and security to our employees, it also provides us an opportunity to celebrate together when we are succeeding. When employees feel fully informed, they feel a sense of trust and belonging.
We also go to great lengths to gather information from our employees. Regularly, we poll employees for ideas on how to improve Hueman. Whether it is growing the business or improving a process, the best ideas often come from the employees. Having this opportunity to work on the business and not only be working in the business allows for a sense of ownership in Hueman's successes. Our employees know their voice is heard and that their ideas are valued.
3. We view our Huemans as humans, not just the person getting the job done.
In our one-on-one meetings, manager to employee, our managers are listening about more than just work. We believe sharing life experiences at work is important. To feel known and cared for in the workplace makes employees more excited to go to work.
For example, according to Gallup, women who have a best friend at work are more than twice (63 percent) as likely to be engaged in their work, and more likely to have a positive experience during the day than those who say they do not have a best friend at work.
Another way we show our employees how much we value them as people is during our holiday parties. What better way to show our employees we care about them than telling them we want to spend time with them outside of the workplace? Our CEO absolutely loves hosting the holiday party at his home.
Another simple way we show value to our Huemans and their personal lives is through community service. We support the causes that they hold close to their hearts. As an organization, we offer our employees opportunities to go and serve the community, represent our brand and participate in fundraisers. We don't require it, we don't force it—we just engage in what is important to them.
4. We recognize our Huemans.
We created what we call a "Core Value System" to regularly and spontaneously recognize teammates for outstanding work or character, while upholding our organization's core values. This online system is a way for us to encourage our employees' feedback and recognize success. Teammates are able to praise each other, support each other, and brag on one another when Core Value Commendations are written. The employee who is being recognized receives the commendation via email, as does their two next-level managers.
At our weekly company meeting, we highlight one commendation as the "Core Value of the Week," publicly recognizing one person from the company. Recognition extends to a quarterly reward for the three most decorated employees, who receive a prize both monetarily and publicly. At the end of the year, winners are chosen for an annual Core Value Award for four categories of employees, in which they are rewarded at our holiday party with a crystal trophy.
Last year, a remote employee was one of the winners and our CEO, Dwight Cooper, being the only one who knew the winners prior, called her and flew her in so that she could be present to receive the reward.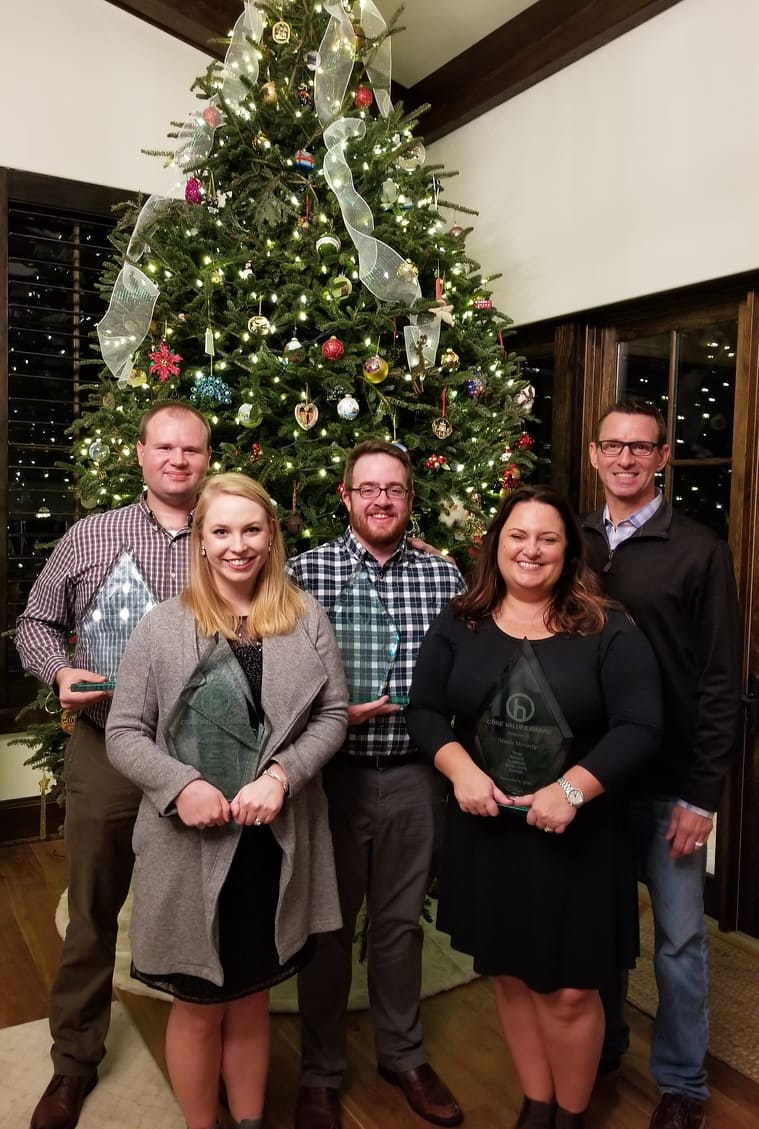 Ensuring your employees feel like they belong increases employee engagement, reduces turnover and cultivates an extremely healthy company culture. At Hueman, we take pride in practicing this every single day.
Want to learn more about how to improve employee satisfaction? Check out this blog.