The shortage of nurses has been an ongoing issue since before the pandemic. However, it has now reached a critical level where patient safety and quality of care may be at risk – so much so that the ECRI named staffing shortages the top safety concern in 2022. Inadequate staffing levels can adversely impact any industry, but they can be fatal in healthcare.
What's causing the nurse shortage?
The shortage has been exacerbated by the aging population and an increase in chronic diseases requiring more care than ever before. The U.S. currently has more people over 65 than at any other time in history.
Many registered nurses and nurse faculty are also approaching retirement age. So, not only will there be fewer nurses, but there will also be limited resources to train new ones. Limited educational resources could cap enrollment numbers or decrease the program's quality.
In addition, more nurses are leaving the profession than entering it at a rate of 15% per year, according to the American Association of Colleges of Nursing (AACN). With less staff, nurses must work longer hours and take on more responsibilities – leading to increased stress and fatigue.
A survey conducted by McKinsey revealed that 30% of nurses plan to leave by the end of 2022 because of stressful work environments and burnout.
Hospitals have started offering incentives such as bonuses and increased pay for travel nurses to address these issues. However, this has been shown to be a bad deal for health systems and nurses.
How the staffing shortage puts patients at risk
Increased nurse-to-patient ratio
Safe nurse-to-patient ratios are critical for both patient care and nurse retention. Despite the adverse risks, nurses across the nation must care for more patients than recommended because of the staffing shortage.
The quality of care provided to a patient decreases as the number of patients assigned to a nurse increases. Each additional patient a nurse is given increases the likelihood of that patient dying within 30 days of admission by 7%. Additionally, patient satisfaction suffers when a facility lacks the appropriate staffing levels.
With more patients to care for, nurses are likely to miss their breaks, work overtime, and experience burnout. Nurses who feel burnout have more difficulty providing quality patient care and report work dissatisfaction.
A Nursing Outlook study showed that just one more patient per nurse was associated with an 8% increase in job dissatisfaction.
Less staffing can result in higher costs for hospitals in general. Decreased quality of patient care results in extended hospital stays and increased medical costs, negatively impacting the facility's perception.
Quality of Care
Several studies have indicated the correlation between inadequate staffing and decreased quality of patient care. With less staff support, nurses must spread their time across more patients, leading to:
Less time to monitor patients – increased patient falls and accidents

Rushed or incomplete nursing care - bathing, mouth care, feeding, and toileting

Medication errors: delayed or missed doses of medication
Improper patient care can lead to increased length of stay, infection, patient dissatisfaction, readmission, and even more alarming – increased mortality rates.
Overworked Nurses
Nurses have reported feeling overworked since before the pandemic, and because the shortage has no end, many are considering leaving the profession. As nurses take on more patients, they take fewer breaks, miss meals, and strain to get through shifts. Fatigue associated with overworked nurses can put quality of care at risk: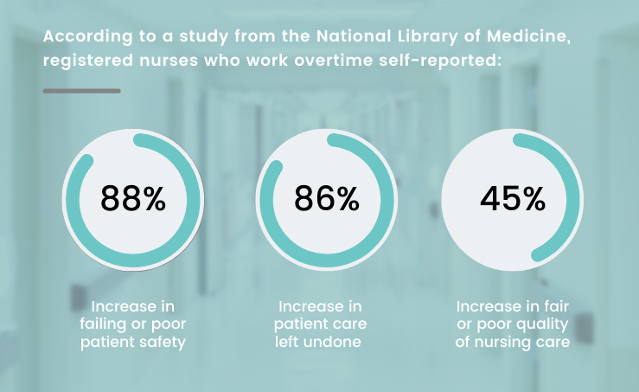 Longer Wait Times
According to ECRI, Americans face longer wait times – even during life-threatening emergencies. Without the adequate staff to support a healthcare facility, emergency rooms become overcrowded – leading to increased hospitalization, procedures performed, permanent disability, or even death.
Fewer Hospital Visits
Patient dissatisfaction, increased wait times, and poor experiences drive people to postpone or miss routine check-ups and treatments. Fewer routine check-ups can cause an influx of severe ailments and diseases, driving the demand for healthcare services even more.
Staffing levels have reached a point of no return for some health care facilities – causing them to shut down altogether and ,forceing patients to drive further for medical attention.
A Dangerous Cycle
Healthcare organizations are finding themselves in a vicious cycle. Inadequate staffing levels are causing overworked and dissatisfied nurses, ultimately leading more workers to leave the industry. According to a USA Today and Ipsos survey, over 1,100 healthcare workers plan to depart from the field in the near future.
How an RPO can help
A recruitment process outsourcing partner can help health systems implement workforce planning strategies to overcome the shortage. A few ways that RPOs can help attract and retain qualified nurses are by:
Establishing employee float pools

Implementing retention strategies

Building an inclusive and diverse workforce

Scaling resources as needed
The current workforce shortage is projected to linger for years to come. An RPO partner can be your organization's tool to ensure patients receive the care they deserve.