Many of today's candidates are passive job seekers. In other words, they aren't actively searching for jobs.
As a result, the role of today's recruiter has evolved.
A recruiter's job description goes far beyond simply reaching out to job applicants and interviewing. They must attract candidates the same way that companies must attract customers. Your recruiters must shift their mindset to think like marketers: recruitment marketers.
Here are three easy ways recruiters can think (and act!) like marketers to reach passive candidates:
1. Identify where potential job candidates may be -- and develop a presence.
Consider investing in advertising jobs on websites that make the most sense for the types of candidates you're looking to attract. Often times this means going outside the typical job website. They may not be searching for jobs, for example, but they're likely on Facebook and Instagram.
To identify where potential job candidates may be, develop your "candidate persona."
Having a candidate persona is a huge digital recruitment tool that will give you a good understanding of the typical behaviors and goals of your target candidates, and will help recruiters know who to target.
A candidate persona should define your ideal employee's:
Career goals
Background and experience
Interests – personal and professional
Key demographics (gender, age, and language)
Devices and platforms
Tech proficiency
A candidate persona will help recruiters decide where marketing dollars will work most effectively. Whether you are targeting candidates on job websites, social media sites, industry-specific websites, email, etc., you want to make sure that candidate personas are being used when determining when and where advertising and sponsoring should be utilized.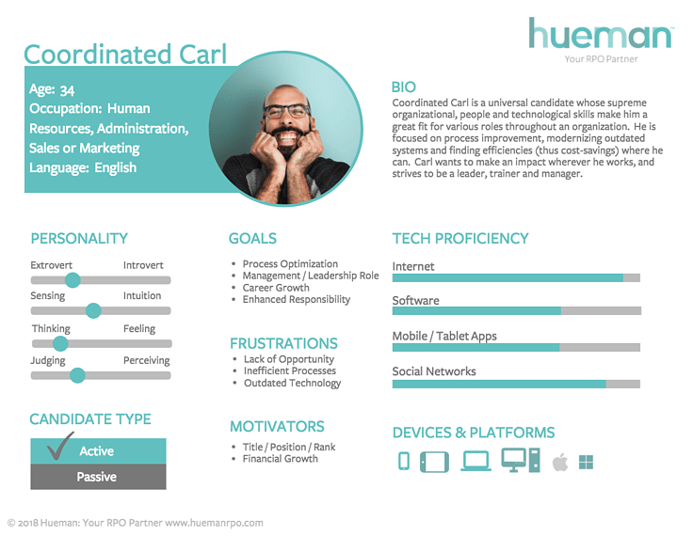 2. Utilize social media
Once your recruiter understands where and how to advertise their positions -- have the recruiter post to their social media network and "market" their positions.
83 percent of candidates are active on Facebook, 40 percent are active on Twitter and 36 percent are active on LinkedIn.
So the candidates are out there -- recruiters just need to think like marketers!
Get creative with how they do this. Don't just copy and paste a link to the position. Post a colorful, engaging picture that stand out in someone's news feed.
"The good news is, you don't need to be a marketer to make an impact on social – you just need employees who are excited to get involved."
Put yourself in the candidate's shoes -- would a simple link catch your eye while you are quickly scrolling through your news feed or a colorful, graphic that says "hiring now" with the position that that they are wanting to fill? Not only does the colorful graphic grab a candidate's attention but having quick, brief details of the position on the graphic makes a world a difference.
Having your employees take over their social media with their own graphics and content is the best way to create authentic posts that candidates will actually want to read, watch or follow.
3. Lead Nurturing
To keep your company "top of mind" with potential job prospects, it's imperative that your recruiters are constantly nurturing your business.

Utilize email marketing to a database of prospective clients. MailChimp is a great resource to use when building this lead generated list. Recruiters can download the "opened" and "clicked" reports of their email blasts.

Once they have those hot leads, nurture them! Keep them up to date on the latest and greatest company news, awards and big announcements.

Maybe the company just received country or worldwide recognition for their workplace, leaders, division etc. Or maybe the company merged with an existing company or someone transitioned into a new leadership role. Whatever the great company updates may be — recruiters should think like marketers and utilize those updates!

That way when the passive job seekers are looking for a job, your company will be top of their mind.

From advanced marketing to recruiter engagement and everything in between, your team should implement methods that ensure you're strongly positioned and competitive in your marketplace while still integrating recruitment marketing strategies.

Recruiters need to shift their mindset and think like marketers. Focusing on building connections, understanding the audience they are marketing to and knowing how to properly reach their candidate. Want to learn more on how to train your recruiters to think like marketers? Contact us today at info@hueman.com.