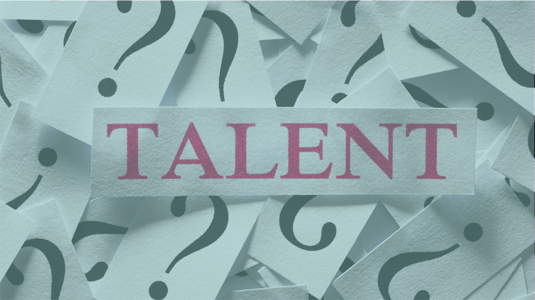 In late March 2020, Hueman RPO noticed a decrease in our job applications even as unemployment spiked to an all-time high. Fast forward to today, and as the job market steadily begins to make its recovery with unemployment claims falling and jobs steadily increasing with more than 559,000 jobs added in May 2021, finding talent is still a huge challenge for many businesses. Yes, you heard that right – jobs are coming back, unemployment is dropping, and many U.S. businesses are struggling to find workers.
According to iCIMS, in March 2021, job openings rose 34% compared with January 2020; meanwhile, job applications were down 13% in March from pre-pandemic levels. According to a recent Indeed report, the number of job applicants has decreased by 60% year-over-year.
Which leads us to this question: why aren't people going back to work? It's complicated, and there doesn't seem to be one simplified reason. With the past 18 months being a roller coaster ride for the labor markets, it can be challenging to understand where the market is now and how it may be impacting different businesses.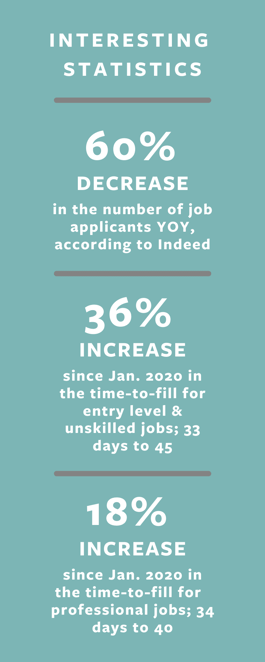 Major Trends Impacting the Workforce Post-COVID
Dramatic increase in demand for workers in some segments that saw furloughs and layoffs amid COVID (e.g., hospitality/professional business services/construction), while demand remains high in COVID sectors (e.g., healthcare/transportation & logistics)
Some workers still in fear of contracting COVID or are dealing with long-haulers symptoms of COVID
Some workers have ongoing disruption related to school closures
Some workers who have not required daycare for children during the pandemic now need it; however, finding, affording, and transitioning back to daycare is delaying some from rejoining the workforce
Some workers are enjoying their extra unemployment benefits and are choosing to stay out of the workforce
Some workers have become accustomed to home-based work and are holding out for permanent home-based jobs
Some workers who lost their jobs during the pandemic are being patient and looking for new, better, or different opportunities before committing to something
Many older workers have decided to retire rather than re-enter the job search process
Demand for recruiters is outpacing the current supply; with fewer recruiters, organizations will be getting fewer applicants (based on data from Indeed, there has been a 78% increase in recruiter job postings since Jan 2021 and a 47% decrease in recruiter job seekers)
More women left the workforce at the start of COVID and are not re-entering the workforce at nearly the rate of men (4 million women left the workforce from February 2020 to February 2021)
In addition to the workforce challenges created by COVID, we are also feeling the societal impacts of baby boomers exiting the workforce in mass, record low labor participation from working-age Americans, and the lowest birth rates the US has seen to date.
Baby-Boomers Exiting the Workforce
In a typical year, 2 million baby boomers retire from the workforce; however, in 2020, over 3 million retired. The retirement of one of the largest populations in history leaves an enormous gap that can't be entirely filled due to the continued falling of the US birth rate. The US birth rate has been falling for decades, with the fewest births in 35 years in both 2019 and 2020. Based on a study by Brookings Institution, an estimated 300,000 fewer babies are expected in 2021. Additionally, the boomer generation generated wealth that their children and grandchildren stand to inherit. In the period of 1947 – 1975, the real GDP almost tripled from $2 trillion to about $5.6 trillion. Combining a wealthy outgoing generation of workers and fewer siblings to divide up an inheritance will almost definitely have an impact on the labor market.
Labor Participation from Working Age Americans
In addition to the alarming rate at which women left the workforce over the past year, another trend started in the 1980s and continues today with prime-age (ages 25-54) men leaving the workforce in large waves. The prime-age male labor force participation rate declined from 94% in 1980 to 89% in 2019.
It seems as though more and more millennial men are opting out of work, whether it be to stay at home and take care of children, living at home with parents longer and not starting a family, or simply choosing not to work at all.
Labor participation of working age Americans could potentially be exacerbated by the fact that millennials are expected to inherit an estimated $68 trillion from their baby boomer parents by 2030.
Decreasing Birth Rates
According to census bureau population estimates, the US saw record lows in population growth annually for the 2010 to 2020 decade. In 2020, the birth rate dropped by 4% compared to previous years. While the US has not yet had to deal with a shrinking population, the US population growth is slowing and is projected to begin shrinking by 2062.
The implications of a declining population will impact an already challenging talent market. It seems intuitive that we need to increase the number of children born per family; however, we all know it isn't that simple due to the cost-of-living outpacing livable wages each year, healthcare costs skyrocketing, and parental workplace support being optional. Additionally, this solution would require at least two decades before the first of these new 'babies' would even be able to enter the labor force.
Critical Considerations for Navigating an Unstable Talent Market
As we think about the impacts both COVID and societal factors have on the workforce, we must consider how employers can navigate such an unstable talent market. With an already constricted talent market, and recent surveys showing anywhere from 25% to upwards of 40% of workers now thinking about quitting their jobs, a focus on maximizing the candidate experience and employee retention programs will become even more critical for your organization.
Candidate Experience Matters
From your career site and a simplified online apply process to your organization's EVP and online reputation to your communication and follow-up, your organization is competing with millions of employers trying to attract talent in an already tight market. As a nationwide employer across all industries, Hueman knows that job seekers are more likely to apply to companies that make it easy to apply and have a positive online reputation.
With over 50% of job seekers searching for jobs from their phone, your career site and apply process must be mobile-friendly and relatively short in length, enabling a positive experience for candidates. Driving applicants to your organization is the first step; now you need to make sure that your team is communicating with those applicants. In a competitive talent market, your top candidates are considering other opportunities, so you want to be sure that you are communicating and staying in touch with your candidates through every step of your hiring process.
A survey conducted by Bayt.com found that 76% of professionals research a company online before considering a job opportunity. Another survey conducted by Indeed shows that 83% of job seekers are likely to base their decision on where to apply on the company's online reviews. With statistics like these, your organization needs to make sure your company EVP and your online reputation are aligned. Is someone in your organization monitoring your reputation on sites like Glassdoor, Indeed, and Facebook? If not, it's time to start.
Retention Programs to Combat Attrition
Over the past year, people have had time and a bit more space to ask themselves, 'Is this what I really want to do?' As studies suggest, many of those people are reconsidering their current career, some are deciding they want to work fewer hours with more flexibility, and others are finding they don't want to go back to an office. Whatever the case, more US workers are quitting their jobs than at any time in the last two decades. If you don't want to be among the companies losing great talent, you need to start thinking about your retention program and making the necessary tweaks to accommodate the current and future talent market.
More and more job seekers are looking for companies that afford a good mix of pay, flexibility, and company culture.
Is your company's pay in line with the market?
Do you offer flexibility in time-off and working from home?
Do you have a positive company culture where people like coming to work?
As you begin to think about your organization's retention tactics and what 'else' you may need to implement or deploy to ensure you offer competitive benefits that are attractive to employees, these are all questions to ask.
In this time of uncertainty, it's not enough to have a recruitment strategy. If you're going to be competitive and attract quality talent, you need to have a world-class recruitment program. For more tips on recruitment and talent acquisition best practices, check out our World-Class Recruitment Guide here today!