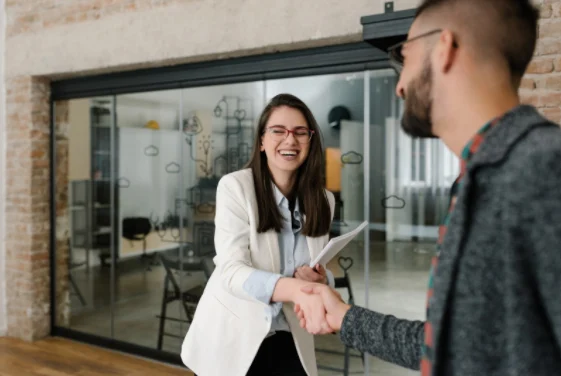 Recruitment is all about finding someone to fill a position. Talent acquisition focuses more on hiring for a culture fit than it does hiring for skills and experience. The two put together are the formula for a perfect fit—saving your company time and money.
TA involves getting to know your candidates and paying close attention to how they would mesh with your company culture. Talent acquisition requires thinking big-picture about the company and its needs when assessing candidates.
The talent acquisition team is responsible for finding, acquiring, assessing and hiring candidates to fill roles required to meet company goals and fill project requirements. However, more often than not, the interview process is in the hands of the hiring manager. It's the hiring manager who conducts the candidate assessment and ensures the candidate is the right fit for the company and position.
So as a hiring manager, how do you support the talent acquisition process to ensure you are finding the right fit for your company and not just filling a need?
Why is talent acquisition (TA) important for hiring managers?
LinkedIn's article on "What is Talent Acquisition," gives a great explanation on the talent acquisition process and why it involves digging deeper than simply finding a talented candidate. TA covers every step of the hiring process from crafting a job description and sourcing, to recruiting, interviewing, screening, hiring and onboarding a candidate. If the TA process covers every step of the hiring process, why shouldn't a hiring manager understand how they can best support it?
Talent acquisition specialists are an important part of the process. They are always on the prowl for top talent so, when a specialist sends a candidate over to the hiring manager, the hiring manager should be able to integrate the TA process into the interview process. Your TA specialist is going to find a candidate they think will be great, but that doesn't mean they are undoubtedly a perfect fit. You must do your part in assessing their character and skills.
During the interview, the hiring manager must analyze the communication and style of the candidate to decide whether or not they will be a good fit for your company culture. Assess soft skills and use the interview process to discover how the candidate's outlook and personality are going to fit in with the environment of your company.
Culture eats process for lunch. The hiring manager is a huge part of that assessment. Your company's process may be great. You are probably using our best hiring practices, and your candidate may have all of the required hard skills and endless list of experiences. But if you aren't looking at soft skills and values, you may be putting your company culture at risk.
Cultural fit is so important in the workplace. If the values of your candidate don't line up with the core values of your company, then they may not be the right fit for you.
It's crucial for everyone who is part of the hiring process to understand company culture and its importance in the workplace. By having a better understanding of talent acquisition, you are better equipped to find the right fit for any job within your company. To read more about what to focus on to find cultural fits for your company, check out our eBook.