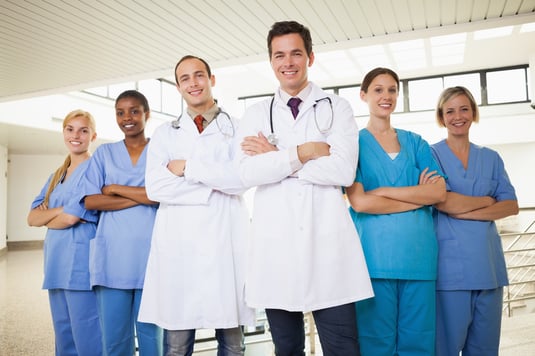 When the COVID-19 pandemic hit the United States in early 2020, hospitals across the nation found themselves suddenly hit with an overflow of very sick patients. Hospitals struggled to maintain adequate staff levels throughout the pandemic to oversee both everyday emergencies and the influx of COVID-19 patients. Doctors and nurses put their lives on the line daily, struggled with feeling unsafe and unappreciated due to the lack of proper medical equipment, battled their own and their families' illnesses, and faced irregular work hours and pay. Healthcare systems hired nurses in mass to meet the critical number of patients coming in daily. Many hospitals are still experiencing nursing shortages, leading to hiring managers and recruiters for healthcare systems struggling to fill all the roles needed for vaccine and testing distribution.
When the vaccine arrived in early 2021, hospitals that were only starting to get back on their feet were thrown back into chaos as they were tasked with distributing the vaccine to their employees and patients. Unable to balance their staffing levels between vaccine distribution and regular everyday duties, hospital managers needed help distributing the vaccine. For many hospitals, the roll-out and staffing of the vaccination program fell to the talent acquisition team. This came at a time where many hospitals and health systems were still battling staffing challenges from Covid.
As a partner to many healthcare systems nationwide, we know that having to quickly hire an influx of nurses and physician assistants at the beginning of the pandemic was a lesson to many in the importance of having an established flexible workforce. This year is considered the worst nursing staffing shortage in decades, with 60% of nurses and 20% of physicians preparing to exit their professions directly because of COVID-19. The shortage has made it even more difficult for hospitals to fill critical roles. Now, battling an already struggling workforce and the nursing shortage, hospital talent acquisition (TA) professionals, hiring managers and recruiters are scrambling to garner the essential talent for the continued distribution of the COVID-19 vaccines.
One lesson many healthcare facilities had to learn during COVID-19 was the importance of implementing a float pool. Hospitals that did not previously have float pools or flexible staffing realized how badly they needed to implement them to meet the demand, and this is where a recruiting partner can be essential. According to Hueman RPO Division President Sarah Palmer, "Many healthcare facilities could not use their permanent staff to support vaccine rollout. This was because they're in parallel to their current full-time jobs, and we have a lot of hospital partners that did not have float pools. So what we've seen happen during the pandemic and the vaccine rollout is the expansion or even creation of [float pools]." With an RPO partner like Hueman, additional recruiters were able to help build essential employee float pools for our partners. Allowing hospital leaders to focus elsewhere while staffing was taken care of.
Many TA professionals and hiring managers for hospitals, clinics, and medical networks needed to fill positions for testing and vaccination sites quickly. Due to the sudden need for additional experienced nurses and physician assistants to fill these roles, hiring managers began to shift jobs to ensure clinics were fully staffed. Daniel Mormak, Hueman's Director of RPO Services, identified one of the biggest challenges for hospital systems has been creating, maintaining, and structuring staff. Dan says, "The hospital system is a big ship that doesn't turn nimbly, and for many of our partners, we had to make it turn nimbly and had to break through red tape and natural obstacles." Hospitals already had so much on their plate. Having to deal with rotating hiring on top of everything else was shaping up to be impossible. This is where, as an RPO, we had to step in big time.
Without float pools in place for healthcare systems, recruiters and hiring managers had to hire and quickly train nurses to establish these brand new float pools. The hiring and onboarding processes had to be expedited to get nurses on the floor as soon as possible. During the implementation of a float pool for one of our partners at the beginning of the pandemic, Hueman worked with our partner to provide an online scheduling system and help establish a successful expedited hiring and onboarding process for the float pool staff. Doing this allowed us to hire qualified candidates quickly and provide easy-to-use online scheduling to enable the float pool to alleviate staffing challenges across their multiple facilities.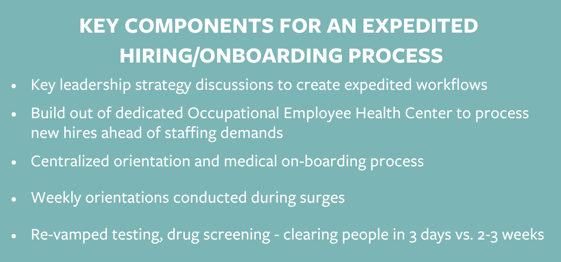 Now, more than ever, there is a need for flexible, safe staffing, and a high-functioning float pool team is considered an economic necessity. Having an established float pool in place means hospitals have adequate plans and staffing to deal with unexpected events (whether due to a pandemic like COVID-19 or even a significant accident). It also protects hospitals from overworking their staff, leading to employee burnout and costly overtime or premium pay. While it can be a process to establish a working float pool, having an experienced recruiting partner help implement one will be incredibly beneficial to hospitals, clinics, and urgent care in the long run. At the beginning of the COVID-19 pandemic, we were able to quickly help several of our partners implement system-wide float pools to support their hospitals and clinics. Hueman Director of RPO Services Ryan Pharis and his team helped one of our partners build their float pool to facilitate testing and vaccine distribution. For this partner, Hueman brought on five additional recruiters to help quickly recruit and hire the nurses, pharmacists, and registrars needed for a successful vaccine rollout. This float pool allowed our partner to distribute talent across multiple vaccine distribution locations, as needed.
According to Hueman's Vice President of Great Customer Experiences Brianna Schumacher, Hueman's recruitment managers and recruiters helped keep task forces and groups in place for our partners so they could continue with "business as usual." They took the weight off hospital administration and allowed the day-to-day talent acquisition tasks to be carried out effectively. While recruiters had to put some jobs on hold, they protected the core group of hiring-- specifically around surge for COVID positions. Sarah Palmer shared that "in several cases, HR and TA leads ended up acting as a sort of project manager of the vaccine rollouts initially." At Hueman, we were able to help our partners to create or maintain their float pools and hiring additional staff on time to aid in the successful distribution of the vaccine across multiple clinics and hospital locations. As a nationwide recruitment partner to healthcare systems, we see the many benefits of prioritizing a float pool to help with staffing shortages.
Interested in learning how to create, implement, and maintain a float pool that can help sustain your organization's hiring needs in times of uncertainty? Contact us to learn how we can help you today.