Recruitment and hiring are crucial to the culture and success of a company. However, if you're like many Human Resources (HR) and Talent Acquisition (TA) leaders, you know it can be incredibly time-consuming. Not to mention it is not always at the top of the to-do list amongst other projects, yet it is one of the most imperative organizational functions. Recruitment Process Outsourcing (RPO) is a game changer for many organizations whose HR and/or TA departments are spread thin and need to focus on other important tasks.

Recruitment Process Outsourcing (RPO) is a form of business process outsourcing where an employer transfers all (or part) of its recruitment and hiring processes to a trusted partner. The role of an RPO partner is to recruit under your company's brand and to match employees with your specific roles and your internal company culture. 59% of businesses use outsourcing to reduce expenses, 65% of businesses that outsource say they would increase their outsourcing efforts in the future, and 78% of respondents feel positive about their outsourcing relationship with other companies.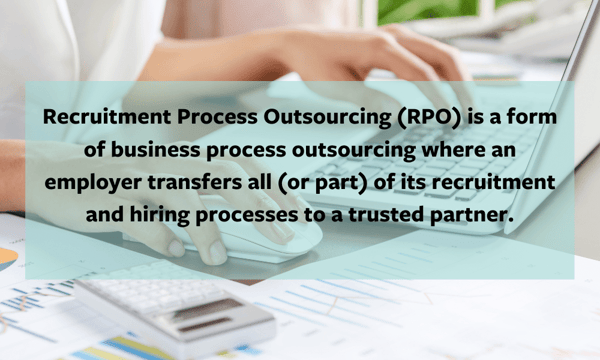 Many HR and TA leaders ask - "What are the benefits of outsourcing recruitment vs. using my internal team?" There are several reasons that outsourcing might make sense for your business. With 24+ years in the recruitment space, Hueman has worked with clients across almost every industry, and we find that our partners consistently indicate several key benefits and advantages of outsourcing their recruitment function to us. To help give some insight into those benefits, we've outlined them below and included what some of our clients have had to say.
Key Benefits of an RPO Provider:
1. Access to the Latest Technology
In the age of digital recruitment, it is imperative that recruiters and talent acquisition professionals not only stay informed, but ahead of the rapidly changing technological advancements in recruitment. As organizations that focus entirely on recruitment across many industries, RPO's are aware of the various recruitment technologies available and often act as a consultant to their partners in selecting the right mix of technology to create the most effective recruitment and hiring tech stack for their business.
For example, Hueman has an Innovation and Technology Advisory Board made up of technology partners in the following spaces: intuitive virtual recruitment, top job boards, social media, onboarding technology, applicant tracking system (ATS) technology, labor market analytics, customer and employee experience software and talent matching software. This Advisory Board is just one way we ensure that our team is consistently interfacing with technology providers about our partner's needs and any upcoming technologies or innovations that might benefit our partner's recruitment and hiring program.
2. Proven Processes and Best Practices
The sole focus of an RPO partner is recruiting; therefore, your business receives the benefits of team members whose sole focus is on understanding the recruitment landscape and facilitating exceptional candidate and hiring manager experiences. Hueman's recruiters are trained on proven processes and best practices that are continually refined based on the evolution of the recruitment function. As RPO providers work with clients across all industries, they understand the best practices to drive optimal results, such as making Six Sigma training a standard part of the talent acquisition function, encouraging more diverse hiring and creating a personalized approach to deliver a more positive candidate experience.
Hueman has honed and improved our recruitment processes with countless partnerships and has created best-in-class candidate experiences across almost every position and industry. We use data and metrics in each of our partnerships to continually refine our approach, allowing us to make adjustments to our ongoing efforts based on the realities of the market. This takes the time and efforts off of our partner's internal resources and provides their organizations with access to strategies that have been learned over years and years of intense focus on recruiting and matching the right candidates to a specific company culture.
3. Digital Recruitment Marketing Expertise
Building your digital brand is now more important than ever for candidate awareness. Additionally, the right digital recruitment marketing strategy strengthens your employment brand and generates more quality candidate applications for your organization. 75 percent of job seekers do research on a company's reputation and brand before applying. Companies that don't have a good reputation or a strong brand are neither able to attract new skilled professionals, nor retain their most qualified employees. Digital recruitment marketing expertise will help your organization through building a strong employee value proposition (EVP), to optimizing your career site and designing a candidate-friendly job application process, to improving search engine rank and increasing organic applications and more.
At Hueman, our Digital Recruitment Marketing Team works hand-in-hand with our recruiters to provide solutions that deliver recruitment efficiencies and optimal results for our partners. We focus heavily on lead generation, lead nurturing and advertising, driven by ideal candidate personal attributes. We use many methodologies and tools, depending on the job at hand. These include everything from foundational marketing best practices (such as overhauling job descriptions to become search-engine optimized) to strategic initiatives (such as building a client's careers identity through an email marketing program and customized social media presence).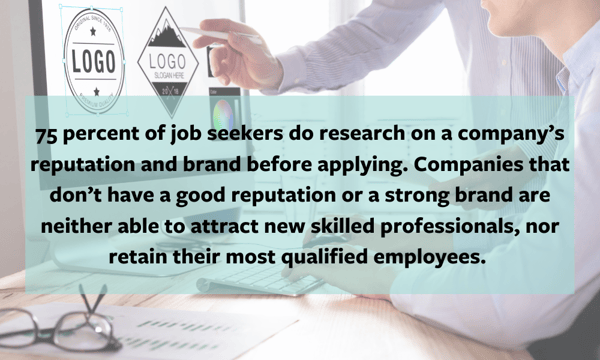 One of our partners was having recruitment challenges in specific rural markets, and also needed guidance for improving their overall job application process and how they could best portray their EVP in marketing jobs to new candidates. Hueman implemented several digital recruitment marketing tactics to enhance the overall candidate and hiring manager experience, effectively increasing brand visibility of current job openings and driving a significant increase in candidate applications. Some of those solutions included:
Improving the application process and modifying job postings for SEO optimization, driving a significant increase in applicant flow
Evaluating EVP and messaging on all digital channels, including claiming company pages and enhancing their Indeed company page
Developing candidate personas to effectively generate quality candidates matching the company culture
Integrating a candidate aggregator with our partner's ATS to effectively engage candidates
With these solutions in place, our team was able to hire 50+ employees within a 21-day period, far surpassing our partner's initial hiring timeline goal.
4. Cost Savings
Many companies spend a lot of money on headhunters and job boards, or waste a lot of money through high turnover rates...An RPO provider can reduce recruiting costs by streamlining your recruiting process and showing you how to find good candidates better and with less time and money At Hueman, we typically see a large improvement in recruiter productivity within the first 6-12 months of a new client partnership, often resulting in reduced premium labor spend (overtime, etc.), and reduced opportunity costs (i.e. growth restrictions) because of our ability to fill positions that have been unfilled for some time.
Additionally, our partner's hiring managers typically experience significant time savings with the implementation of our programs. Our recruiters shield hiring managers from much of the recruitment process, enabling them to spend more time on their day-to-day responsibilities and the management and engagement of their team. Some of our typical results that impact overall cost savings include:
Increasing candidate applications by 2-4x of the current volume
Increasing the number of hires by 2x the current volume
5-7% reduction in turnover
30%+ reduction in time-to-fill
Average reduction in cost per apply of 67%
Overall average cost savings of $1,000,000+
5. 100% Dedicated Team to Recruiting for Your Business
Where a hiring manager, who is pressed for time to fill a position, or has a ton of candidates to go through, may not necessarily take a look at the unique qualities that determine whether or not the new hire will stick with the position—an RPO solution can get into those qualities while still looking for candidates who have the needed experience and education. This is another example of where an RPO company can make a significant impact. Hueman fully dedicates recruiters to each of our partners, which ensures that our team is passionate, engaged, and aligned with your goals.
It is very important that we embed recruiters in your culture and that they are "living and breathing" it every single day. Our recruiters train on the best aspects of tried and true interviewing and screening techniques, including Top-Grading. This vetted evaluation process truly means the difference between simply increasing candidate volume vs. delivering quality candidates to your hiring managers. In addition to being 100% dedicated to your business, your RPO partner has a robust team in place to act as backup for your key recruiters, ensuring that you are never without support when you need it.
One of our partners explains it best: "It's amazing how strong the relationships are between our hiring managers and Hueman's recruiters, even in Jacksonville they are integrated as part of our team." - CHRO for a large academic health system
6. Positive Candidate/Hiring Manager Experience
This is one of the most important foundational ideals of an RPO. When partnering with an RPO, hiring managers now have more support, and candidates receive more communication throughout the recruiting and hiring process. The recruiting and hiring processes can be long and exhausting, and for a candidate it can be especially daunting. How your company treats all candidates, including those who don't end up being hired, can have a direct impact on the quality of your current and future talent pool, as word-of-mouth spreads and your employer brand is affected. RPO partners are keenly aware of this and work to ensure that all candidates have positive experiences that leave them with a favorable impression of your company--even if they don't get the position.
Hueman knows that creating positive candidate experiences is important, but we also know that positive experiences are invaluable for our partner's hiring managers. A happy hiring manager means positive experiences for all who join your team. This in turn ensures that your employees promote the company in a positive light and will increase your chances for referrals and lead to increased retention for your organization. With the help and partnership of an RPO provider, hiring managers will be more satisfied with what's accomplished and the quality of candidates that are recruited and brought into the company.
At Hueman, we collaborate with our partners to provide an exceptional experience for both candidates and hiring managers. From thinking about how to best engage the candidates who are the right fit for your business, to absorbing more of the recruiting process so that hiring managers can be freed up to focus more on their day-to-day—finding the right RPO provider can ensure that your hiring managers receive the best candidates when they need them.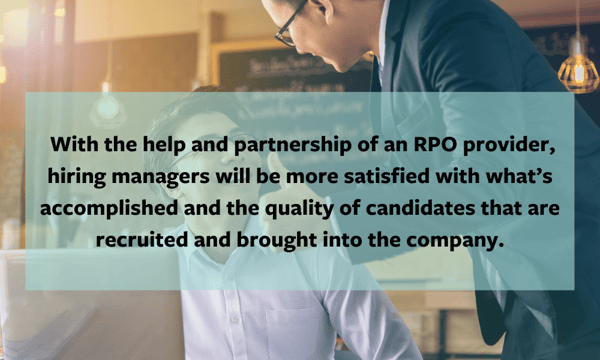 Recruitment Process Outsourcing (RPO) can be a crucial asset to your company's ongoing success. If you're interested in learning more about the benefits of recruitment process outsourcing and whether it's the right option for your company, we'd love to help – contact us today!